A request letter to change working hours can be used if one wants to request their boss to change their working hours. If an employee wishes to change their working hours, then they may need to write a change in time letter to their employer.
The employee may have personal or work-related reasons for wanting to change their working hours, nevertheless, the letter needs to be written in the form of a formal business letter to show that the employee respects their employer or their Human Resources Manager.
Tips when writing the letter
Type this letter in Microsoft Word.
You can start by typing your name, and address as well as city, state plus Zip code in the top left-hand corner.
Leave some space and type the date.
After this leave space and type the employer's name, address, city, state plus Zip code. Once again leave some space and address the letter to your employer.
In the first line state why you are writing the letter. State what your present timings are and request which new timings you wish to have. Tell them why you want these new times.
In the next paragraph tell that you know the requirements of the job and state how many years you have worked there and that you have tried to work to your best.
It can be a good idea to talk to a superior, and if they agree with you, you can ask them to write a letter of recommendation which you can attach to this letter.
End by stating that you will be waiting for the reply or meeting. You can add your phone number as well as an email address where the employer can contact you if they need to ask you anything. You can suggest that you are open to suggestions from your employer.
Thank your employer for taking out time to consider your letter and end with "Sincerely."
After some space sign, the letter then types your name and states if you have enclosed anything else.
It is important that you do not force your request but ask it politely, so it may be considered.
#1
Dear Arthur,
Seasonal greetings to you.
You have been very busy previously with work. I was waiting to discuss an issue with you regarding my timings. As you know, my daughter is very young, and she needs someone to be with her all the time. Therefore, I have decided to cut on my work timings. I know there is a rule to follow the eight-hour work shift.
I am very proficient with my work and I have trained my team to be very responsible. Therefore, I can work partially from home, and for any urgent matters, I will make sure to be at work. If you approve of this, it will be a great help for me and my family.
With Thanks.
Annette
#2
Dear Mr. [Manager]
Subject: Request to change working hours for [X]
I [name] have been working as an audio engineer in your FM station for the last two years. My working hours are from [time] to [time]. I really enjoy my work but as you know I just had a baby and now after coming back from my maternity leave, I am having trouble with time management. Sir, I would be very grateful if you could shift my working hours to the evening. Any time in the evening would be good for me because then I can leave the baby at home safely with my husband and give my full attention to work.
I have always found the management on our Radio very helpful and supportive. I have learned a lot while working here and had the good luck to meet some excellent mentors who have helped and guided me both personally and professionally and I doubt that I will find another workplace where the atmosphere is so positive and the people are so nice and helpful.
Please give my case special consideration as it would not be possible for me to continue my job if you do not change my timings as currently, I do not have any family or friends who can help me with the baby.
Looking forward to your consideration and support.
#3
Dear Mr. [name]
Subject: Request to change working hours during [X]
It is with a lot of pride that I want to inform you that thanks to your encouragement, I have decided to continue my studies which I had left incomplete due to financial problems. I have registered for evening classes so I can clear my [name] exams privately. I am extremely grateful to you for guiding me in this direction and encouraging me to pursue my education.
The only issue is that the timing of my evening class and my duty timings are clashing. I work at the store from [time] to [time]. If you could kindly change my shift to the first half, I would be extremely grateful and it would be possible for me to manage both my studies and my job easier.
I would like to thank you once again for your encouragement and support. If you had not motivated me, I would never have thought of taking my studies up again.
Letter Template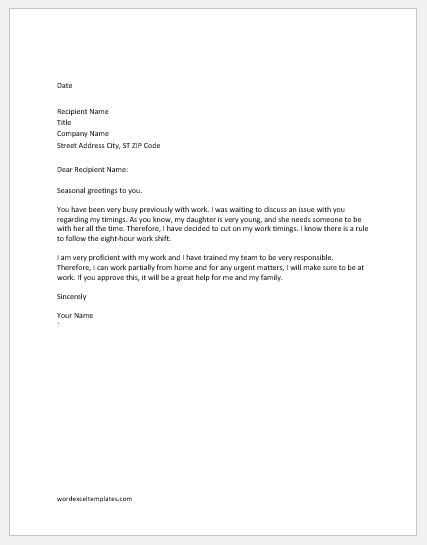 File: Word (.doc) & iPad 
Size 17 KB
See also: