If you stay in a rented apartment or house, you may find the need at some time to write a letter to the landlord to not increase the rent. This letter may be a request asking your landlord to consider your situation as being kind.
The benefit of this letter is that one can explain to their landlord in writing why the proposed increase in rent is not suiting them. Most of the time when someone is staying on rent, they may not be able to afford to buy a house.
The case may be that when the person first arrived the rent was reasonable and recently the increase is not suiting them, in this case, a letter written to the landlord to not increase rent may turn out to be helpful.
Tips on writing the letter
This letter may be typed in Microsoft Word, instead of handwritten.
Start off by writing the date. This may be written in the top left-hand corner.
After leaving a few lines, the name, company, as well as address of the landlord, may be written. You can also add the Zip Post Code.
You then start off the letter by addressing it to the landlord, for instance, "Dear …" after leaving a space above.
Leave another space and type the letter.
Start off by stating why you are writing the letter. You can state that you are writing this letter due to the current change in rent prices.
In the first paragraph, you can also briefly state that you appreciate residing in the property, but your budget cannot adjust to a rental increase currently. State that you do not wish to move because of your limited budget along with options.
In the second paragraph, you can further your argument by explaining how your move may affect the landlord. You can say that you will need your deposit from the landlord which may take time, increasing the time before someone else comes to reside in the apartment leading to the landlord losing cash they could have gotten in that time from you.
You can end the letter by stating that you do acknowledge the new rent increase being necessary, but still, ask if the landlord can consider your case. You can ask whether the increase is something to do with you and if so, then you can fix that issue.
End by saying something like "Sincerely" and then type your name and sign the letter.
The above letter is a letter that people staying on rent may need to use at some time.
See the letter samples below.
#1
I hope you are doing well. I am writing to discuss our upcoming lease renewal. I request you to not increase the rent.
I have been residing at (property address) for the past 5 years. During this time, I have taken great pride in treating the property as my own home. I have ensured cleanliness and maintenance with prompt communication regarding any repairs. In addition, I have always cleared my dues on time.
Considering our long-standing relationship and my responsible tenancy, I kindly request that you consider maintaining the current rental rate in accordance with our initial rent agreement. Otherwise, my financial burden will increase and I might be compelled to look for other places for rent.
I look forward to discussing this matter further and reaching a mutually beneficial agreement.
#2
I hope you are doing well. I am writing to express my sincere concerns regarding the proposed rent increase for your apartment at (address). I kindly ask you to reconsider and keep the rent at its current rate.
I would like to bring your attention to the fact that I have been a responsible tenant. I always pay my rent on time and take care of your property. I want to start by saying that I have been a good and responsible tenant. I always pay my rent on time and take care of the property.
In addition, I also did some research and found that other similar rental properties in the area have similar or even lower rental prices. I, therefore, believe that my request to keep the rent unchanged is justified.
I hope you take my request into consideration. Keeping the rent the same would be fair for both of us and will help maintain our good relationship.
If you want to discuss this further, I am open to it. I really appreciate the comfortable living environment you have provided, and I hope we can continue with the current rent.
I send you my best regards and look forward to your response.
#3
Dear Mr. James,
I know you are busy these days. The other day, I visited you to speak to you in person. But got to know that you are out of town for work. I am aware of the policy of increasing rent every year. I have been living in your home for the last five years. I have always taken care of your home as my own and I have some valuable memories attached to this house.
However, this year, I am facing some financial constraints due to which I would request you to not increase the rent. This would be a great favor from your end and I can promise you to increase the rent myself once I am able to.
Please let me know your thoughts on this matter.
With Thanks
[Name]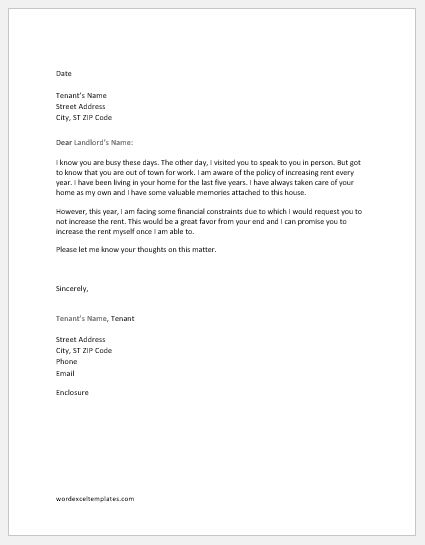 Letter Template
File: Word (.doc) 2003+ and iPad 
Size 17 Kb