The company's policies are designed in such a way that there is always a room for leniencies. These leniencies can be of any kind of increasing the contract period or resigning from the company. Both cases are most likely associated with performances. Sometimes, employees request for increase the job contract before expiry. This reveals their job satisfaction and willingness to work more for the respective organization.
Various situations arise when an employee has to resign. The human resource department is responsible to deal with resignations. Resignation can be voluntary or involuntary. The involuntary resignations are time-based regarding age, post, rank etc. The voluntary resignation occurs with the will of the employee.
They can resign due to any health issue, getting a job abroad, migrating to hometown, higher studies and many more. The companies have set policies and procedures for accepting the resignation. These policies make it easier to deal with resignation promptly and easily. These policies must be designed in such a way that all the steps leading to resignation can be followed easily.
An employee sends a resignation letter providing the reason. Then the company accepts the resignation and floats a confirmation letter to the respective employee. The letter contains the good performance regards of the employee. It also contains a good wish note for future. Moreover, the time period and relevant dates are also mentioned. It also contains the details of the dues that are left to collect. Additionally, it is good to keep the record of resignations.
Sample #1
This is to acknowledge your resignation letter dated 12-05-2018 from the position of Senior Accounts Manager. Your resignation letter has been accepted and your last working day with the company will be 12-06-2018. It was a pleasure working with you throughout all these years.
I wish you best of luck in your future ventures. Please feel free to contact me for any references if needed.
Sample #2
With great regret, I accept your resignation letter dated 24-05-2018 which formally ends your working tenure with the company in the position of Assistant manager on 24-06-2018. It has certainly been a great pleasure working with an individual like you.
You have been a responsible employee of the company throughout. I, on behalf of other team members, wish you best of luck for your future. Please contact the accounts department for any dues left to be settled. If needed, feel free to contact me for any future references.
Sample #3
This is to bring to your knowledge that your resignation dated 23-04-2018 has been duly accepted. Your last working day with the company will be 23-05-2018. You had served the company in the capacity of financial analyst and worked with great responsibility and sincerity.
We at ABC wish you the best of luck for future projects. Feel free to contact me for any assistance.
---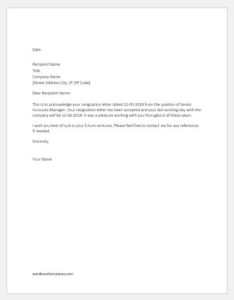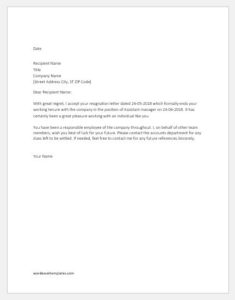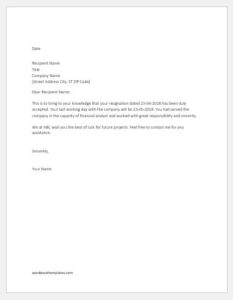 ---