The success of an organization underlies on efficient production. An efficient production comes by providing value-added services to the products. It creates a good impression and a lasting customer trust. Production management helps a lot in achieving all these factors. Product management process includes a set pattern of planning, organizing, directing and controlling. For profitable productions, these all parameters need to be well coordinated and implemented.
Product manufacturing is quite a complex process. Nowadays, there is very tough competition in the market. Due to this competition, one needs to have a vast knowledge of market growth and trends. The market fluctuation occurs randomly. The demands and choices of customers must be kept in view. One good way is to conduct big scale surveys from different sectors of a society. It helps a lot in developing and attractive product that customers would buy willingly.
If customers are kept as a priority, it becomes easy to achieve the desired profits. For keeping customers at priority means identifying customer needs, analyzing the difference in needs on behalf of age, gender, income. Moreover, the environment and surroundings and income level of different sectors must also be kept in view. All these parameters help much in producing a well-balanced product.
A letter of thank you for interest in the product is can be sent either to customers directly who are ordering, a wholesale company, or a retail company. The letter describes the details of the products, and the relative costs and expenses.
Sample Letter #1
We at ABC truly appreciate and are thankful for your interest in our product. We have recently launched our new product range of children accessories and have received great response from our customers. You are one of those prestigious customers who has shown interest in our product by specifying more ideas for making improvements in it.
Your suggestion was great. As you requested, we wish to send you a catalog of our newly developed product and offer you a discount of 30% on all products bought from our store. Hope to receive positive response in future as well.
Sample Letter #2
We at XYZ are thankful for your interest in our product. You have not only bought the fabrics from our clothing line but also attracted numerous customers to it. The company certainly appreciates your efforts in this perspective.
We wish to offer you a discount of 50% on our products for 3 months. As per your request; we intend to share with you the catalog of our latest collection with prices mentioned. Hope to share a cordial relationship in future.
Sample Letter #3
We are overjoyed and thankful that you have shown interest in our vacuum cleaner. A person from the sales representative team will contact you. Till then it will be an honor for us to have at our store and see other product ranges we offer.
Hope to meet up in positive terms in future.
---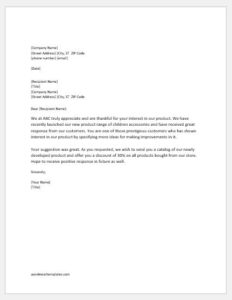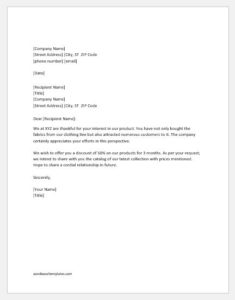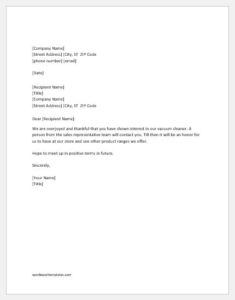 ---