An employee write-up is prepared by the employer who wants to let the employee know about the violation. Another main purpose of this write-up is to inform the employee about what was the policy of the company and how the employee has violated it. In this document, the employer describes the entire situation in simple words.
It is very useful for an organization to use the write-up form in order to deal with all the issues related to violation of company's policies. In any type of employment dispute, employee write-up is considered as a first document to be represented as evidence.
Employee write-up records the entire situation and all issues. Sometimes, a company has to face the accusation of unfair termination after terminating an employee due to the violation of policies. In such a situation, the write-up can help them.
Write-up generally serves as a warning document in which the employee is warned about his actions and some clear ways are also provided to the employee in which he can fix the issues regarding discipline violation.
Usually, the write-up is considered beneficial for the employee as it is written on the purpose to bring the employee on track so that he can avoid his termination from the job.
What should be included in the employee write-up?
It is always important to write an influential write-up. In order to prepare a professional looking write-up document, you are required to include the following details in this document.
The name, position, and title of the employee
Type of violation
The disciplinary offense committed by the employee
A complete explanation of the offense
Plan of improvement
Results in case the employee repeats the offense
Signatures of the employee as well as employee
Tips for writing a write-up:
It is always recommended to keep the tone of the write-up totally professional. You should be careful about the choice of words. Always use kind words to describe the discipline violation of the employee so that s/he can start working on the improvement plan that you have mentioned in the write-up.
Write-up Samples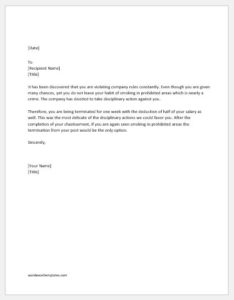 It has been discovered that you are violating company rules constantly. Even though you are given many chances, yet you do not leave your habit of smoking in prohibited areas which is nearly a crime. The company has decided to take disciplinary action against you.
Therefore, you are being terminated for one week with the deduction of half-day salary as well. This was the most delicate of the disciplinary actions we could favor you. After the completion of your chastisement, if you are again seen smoking in prohibited areas the termination from your post would be the only option.
---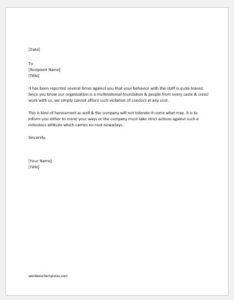 It has been reported several times against you that your behavior with the staff is quite biased. Since you know our organization is a multinational foundation & people from every caste & creed work with us, we simply cannot afford such violation of conduct at any cost.
This is kind of harassment as well & the company will not tolerate it come what may. It is to inform you either to mend your ways or the company must take strict actions against such a ridiculous attitude which carries no root nowadays.
---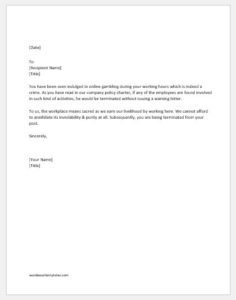 You have been seen indulged in online gambling during your working hours which is indeed a crime. As you have read in our company policy charter, if any of the employees are found involved in such kind of activities, s/he would be terminated without issuing a warning letter.
To us, the workplace means sacred as we earn our livelihood by working here. We cannot afford to annihilate its inviolability & purity at all. Subsequently, you are being terminated from your post.
---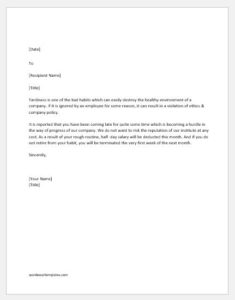 Tardiness is one of the bad habits which can easily destroy the healthy environment of a company. If it is ignored by an employee for some reason, it can result in a violation of ethics & company policy.
It is reported that you have been coming late for quite some time which is becoming a hurdle in the way of progress of our company. We do not want to risk the reputation of our institute at any cost. As a result of your rough routine, half -day salary will be deducted this month. And if you do not retire from your habit, you will be terminated the very first week of the next month.
---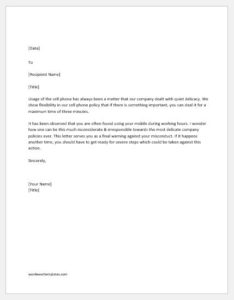 Usage of the cell phone has always been a matter that our company dealt with quiet delicacy. We show flexibility in our cell phone policy that if there is something important, you can deal it for a maximum time of three minutes.
It has been observed that you are often found using your mobile during working hours. I wonder how one can be this much inconsiderate & irresponsible towards the most delicate company policies ever. This letter serves you as a final warning against your misconduct. If it happens another time, you should have to get ready for severe steps which could be taken against this action.