#1
I have come to know that you are showing disinterest in your official tasks for quite some time. You have been advised by your supervisor to quit this practice as it can hinder in the way of your progress, but it seems to be having no effect on you as you are submitting almost every project after the deadline ends. Let me tell you this practice is not acceptable at all. We do not intend to compromise the reputation of our company by ignoring such irresponsible doings.
On taking this habit into account, you showed disrespect to your supervisor which is genuinely intolerable for the company. You have no idea how disruptive this attitude could be for all others working with you. The company issues you a show cause notice as well for all those late compliances which lowered the name of the company to an extent since we deal with other companies & never been late in any of the project submissions.
We do not want to make it a routine for others observing your misconduct rather we want to set an example for them to keep in mind that if they even think to act this way they will have to meet the same end. If you still want to be given another chance, you are supposed to submit the show cause notice & also address this matter with the workforces to let them know how serious it could be to show lack of interest in your official tasks.
#2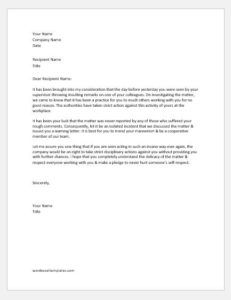 It has been brought into my consideration that the day before yesterday you were seen by your supervisor throwing insulting remarks on one of your colleagues. On investigating the matter, we came to know that it has been a practice for you to insult others working with you for no good reason. The authorities have taken strict action against this activity of yours at the workplace.
It has been your luck that the matter was never reported by any of those who suffered your rough comments. Consequently, let it be an isolated incident that we discussed the matter & issued you a warning letter. It is best for you to mend your mannerism & be a cooperative member of our team.
Let me assure you one thing that if you are seen acting in such an insane way ever again, the company would be on right to take strict disciplinary actions against you without providing you with further chances. I hope that you completely understand the delicacy of the matter & respect everyone working with you & make a pledge to never hurt someone's self-respect.
#3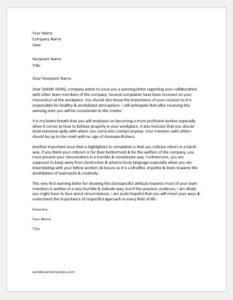 Dear [NAME HERE], company wants to issue you a warning letter regarding your collaboration with other team members of the company. Several complaints have been received on your misconduct at the workplace. You should also know the importance of your conduct as it is responsible for healthy or annihilated atmosphere. I still anticipate that after receiving this warning note you will be considerate in this matter.
It is my bated breath that you will emphasis on becoming a more proficient worker especially when it comes to how to behave properly in your workplace. It also includes that you should treat everyone aptly with whom you come into contact anyway. Your manners with others should be up to the mark with no sign of disrespectfulness.
Another important issue that is highlighted in complaints is that you criticize others in a harsh way. If you think your criticism is for their betterment & for the welfare of the company, you must present your denunciation in a humble & considerate way. Furthermore, you are supposed to keep away from destructive & adverse body language especially when you are interrelating with your fellow workers & bosses as it is unfruitful, impolite & leads towards the annihilation of teamwork & creativity.
This very first warning letter for showing the disrespectful attitude towards most of your team members is written in a very humble & delicate way, but if this practice continues, I am afraid you might have to face worst circumstances. I am quite hopeful that you will mend your ways & understand the importance of respectful approach in every field of life.