The tenants and landlords need to have a good relationship. A good relationship between both can bring harmony and long-term tenancy. It sounds good as shifting after short span is really tough with a lot of time and money wastage.
The tenants and landlords have customized set of rules and policies. Basically, the landlords have higher authorities. A contract is signed by the tenant to enter into tenancy. They need to read all the terms and conditions before signing the contract. The lease contract can be negotiated by the tenant. The negotiation is effective only if the tenant has all the knowledge of the recent market rates, market policies as well as lease laws determined by the government.
The lease letters are under a specific time period. When they are about to expire, a letter is written by either the tenant or landlord for renewal. Sometimes, the renewal contains some new advocates. These advocates can be any new term or condition added or a rent increase.
Rent increase occurs in compliance with the rental laws and permitted rates. Usually, the rental increase is done annually. The landlord should know the tactics of writing an effective letter that clearly communicates the reasons for the rental increase.
A lease renewal letter with rent increase contains the dates of expiry of the undergoing lease and the new dates of lease extension. It also contains the rent increase advocate and the reasons for the rent increase. The tenant is given the time to respond and notify accordingly.
The Letter
First, I would like to thank you for being such a help to me through all the months you have been here. The way you are paying your rent in time without my asking is marvelous. You might have received my last notice as a reminder to you about the lease getting expired the next month.
I want you to stay here and renew the lease contract for another year. I never tried to bother you, but you must have known the rents being charged in your surroundings with the same level of facilities as you are enjoying. You can ask anyone in your neighboring that you are giving about 20% less of all others residing near you.
Our expenses are to be dealt with great care since I am going to retire from my post this year. So, we must increase your rent to 15% on your current rent charges. I am quite hopeful that it won't be worrisome for you since you are enjoying a good fortune. It would be of great amusement if you sign the renewal agreement as you are the exemplary tenants who are also taking best possible care of our property. Wish you the best for all the times to come.
If you have any complications in this matter, feel free to contact me via Phone call or Email.
Preview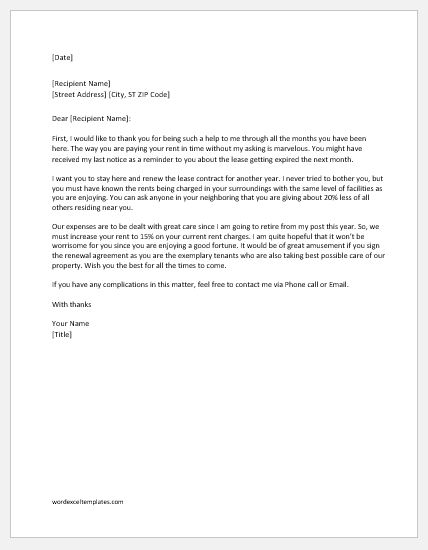 The letter template
Format: MS Word [.docx]
---
Sample Letter #2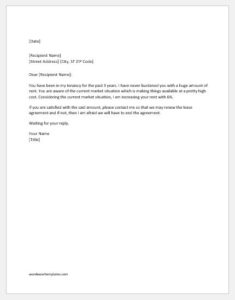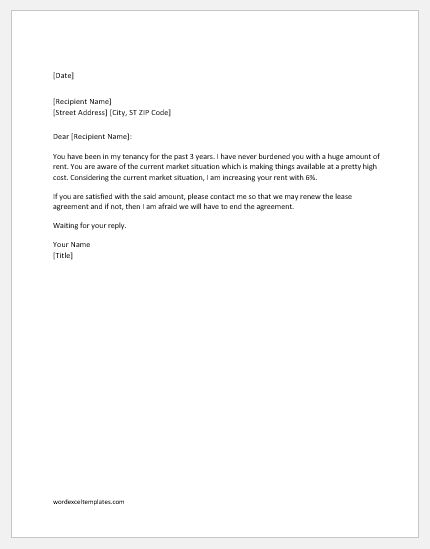 You have been in my tenancy for the past 3 years. I have never burdened you with a huge amount of rent. You are aware of the current market situation which is making things available at a pretty high cost. Considering the current market situation, I am increasing your rent with 6%.
If you are satisfied with the said amount, please contact me so that we may renew the lease agreement and if not, then I am afraid we will have to end the agreement.
Waiting for your reply.
---
Sample Letter #3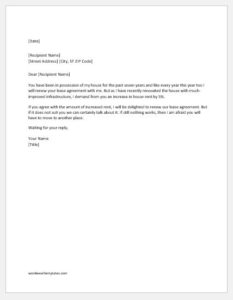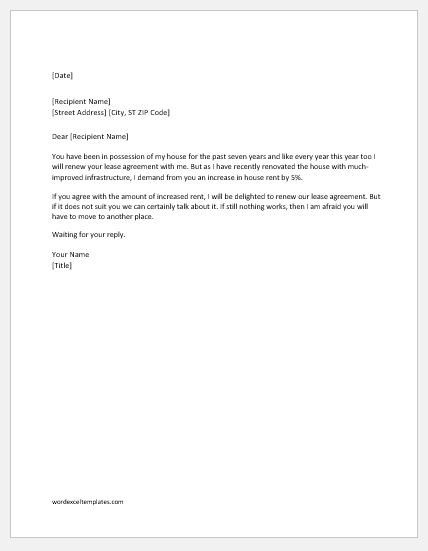 You have been in possession of my house for the past seven years and like every year this year too I will renew your lease agreement with me. But as I have recently renovated the house with much-improved infrastructure, I demand from you an increase in house rent by 5%.
If you agree with the amount of increased rent, I will be delighted to renew our lease agreement. But if it does not suit you we can certainly talk about it. If still nothing works, then I am afraid you will have to move to another place.
---
Sample Letter #4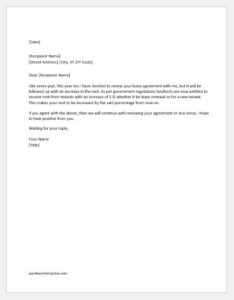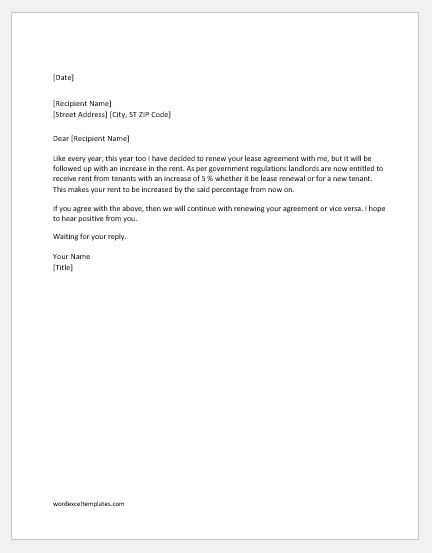 Like every year, this year too I have decided to renew your lease agreement with me, but it will be followed up with an increase in the rent. As per government regulations landlords are now entitled to receive rent from tenants with an increase of 5 % whether it be lease renewal or for a new tenant. This makes your rent to be increased by the said percentage from now on.
If you agree with the above, then we will continue with renewing your agreement or vice versa. I hope to hear positive from you.