In today's world, it is common to migrate inbound for the sake of a good job. People leave their hometown along with family and shift to the city where their job is. In such case, they have to apply for residence. Applying for residence is bit tuff. People usually like to opt for those residential apartments where there are maximum facilities at doorsteps. Likewise, they also try to find out an apartment with lesser rent. So that they can manage easily keeping in view other expenses.
The landlords have more authorities than tenants. The landlords require various guarantees from the tenants. The tenants need to sign a contract as given by the landlord. They can decide the lease period, the number of members allowed to live, vacating policy and many more. But tenants can ask for a meeting to discuss any queries if they have.
Issues can always arise between the tenants and landlords. But, it is better to resolve the dispute with discussion rather than a quarrel.
A residential area has certain norms that need to be followed by all the residents. It keeps a peaceful environment. Sometimes landlords need the tenant to vacate the premises, or to renew the lease. Both cases depend on the relevant circumstances. The lease renewal can contain the increase in rent. The reason can be stated. In the same way, the letter to the tenant to vacate can be due to breaking the norms or damaging the property against the contract.
The letter
The record says that your lease is about to expire on 15th June 2019. We thoroughly enjoyed having you here as a renter and would like to lengthen an offer to recommence your lease for one more year. The rent conditions will vary a bit as you know we have recently renovated the apartment & it indulged a heavy investment.
If the standings are acceptable, kindly sign the paper to initiate the Residential Lease Agreement. When these documents arrive, we will sign it too and will send you the duplicates of all the necessary documentation. In case you have some concerns related to the matter, do contact us & we will sort it out somehow.
One more point is added in the treaty that if you want to vacant home & don't intend to stay anymore, then you will have to pay for the damages our workers encountered while renovating the apartment, even if you want to stay and renew the lease you are still supposed to pay for that but for flexible terms & conditions.
Thank you for your co-operation.
Preview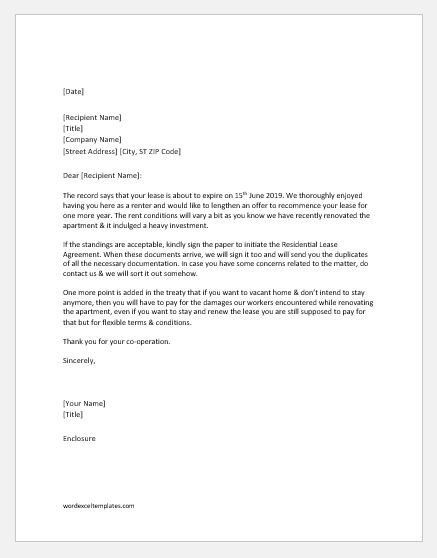 The letter template
Format: MS Word
Layout: Letterhead