A lease can be of two types which are commercial and residential. The commercial lease is for businesses etc. And residential lease is for taking a home on rent. According to the types, the terms and conditions may vary.  A Residential Lease is quite easy in terms and conditions rather than commercial lease. But, a written lease contract is considered much valuable rather than a general lease contract.
The landlord has higher rights than tenants. He can restrict the tenant the way he wants. But meetings and discussions can be held for any queries or suggestions.
The landlord has many rights on the basis of the governmental rules & laws of renting the property. While renting a property, the payment mode is decided, the restrictions are being told and concerning dates are set. The terms and conditions of the lease contract are signed after acceptance. The unpredictable damages responsibility issue is also decided. The landlord also has the right to send a notice for vacating the premises within a given period.
A lease is always time-based. When the lease time is about to expire, the tenant needs to send a lease renewal letter to the landlord for a lease renewal.
The letter contains the references to the lease contract. The starting and expiry dates of the lease are important in this letter. The suggestions regarding rental increase or maintenance charges increment should be mentioned. The tenant can also mention the desired time period of extension in the lease contract.
The letter
I am residing in one of your domestic locations on rent. The contract is going to end on the next Thursday as per the rapports and settings of the agreement. I wish to carry on living here. I implore you to prolong the contract for a period of two years. I humbly request you not to increase my rent in the renewal contract, as I am living on my own & earn a meek amount from my job.
I am quite optimistic to get a part-time job within a few months. In a way, my stay here will benefit you too monetarily, as you won't have to do the publication process for a new leaseholder and it can save much of your time that you must waste in checking the background of new renters. You also won't have to pay negotiator fees in case things get settled down between us.
I expect that you will auspiciously contemplate on my appeal & answer me before the last agreement terminates. If you have any complications or queries, you can contact me via Phone or Email. You can send your approval in lettering. It would be highly adored if you also send a new tenancy contract. Thank you in anticipation.
Preview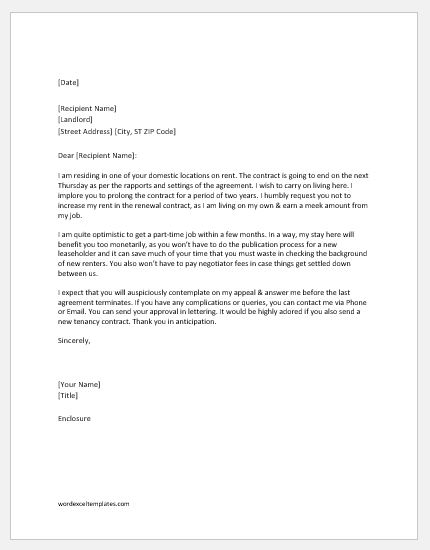 The letter template
Format: MS Word
Layout: Letterhead
---
Sample Letter #1
Lease renewal request for the old terms & conditions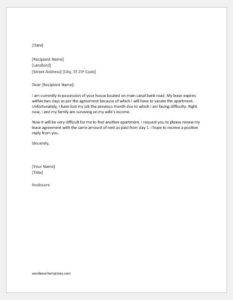 I am currently in possession of your house located on main canal bank road. My lease expires within two days as per the agreement because of which I will have to vacate the apartment. Unfortunately, I have lost my job the previous month due to which I am facing difficulty. Right now, I and my family are surviving on my wife's income.
Now it will be very difficult for me to find another apartment. I request you to please renew my lease agreement with the same amount of rent as paid from day 1. I hope to receive a positive reply from you.
---
Sample Letter #2
Lease renewal request for a personal reason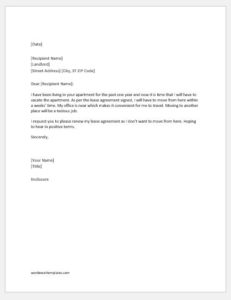 I have been living in your apartment for the past one year and now it is time that I will have to vacate the apartment. As per the lease agreement signed, I will have to move from here within a weeks' time. My office is near which makes it convenient for me to travel. Moving to another place will be a tedious job.
I request you to please renew my lease agreement as I don't want to move from here. Hoping to hear in positive terms.
---
Sample Letter #3
Lease renewal request with an increase in the rental amount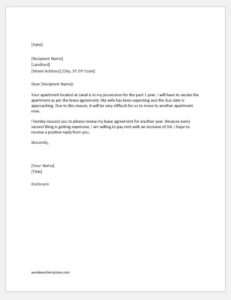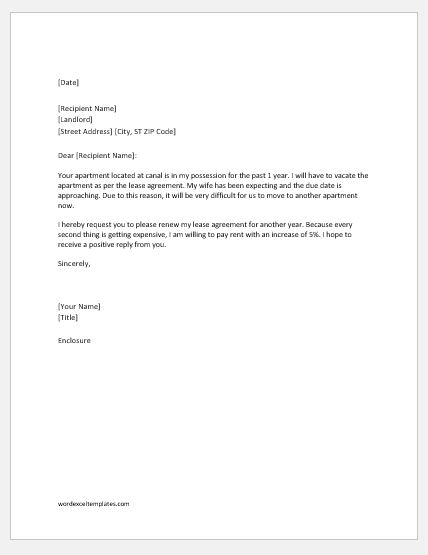 Your apartment located at canal is in my possession for the past 1 year. I will have to vacate the apartment as per the lease agreement. My wife has been expecting and the due date is approaching. Due to this reason, it will be very difficult for us to move to another apartment now.
I hereby request you to please renew my lease agreement for another year. Because every second thing is getting expensive, I am willing to pay rent with an increase of 5%. I hope to receive a positive reply from you.