The human resource department is one of the strongest departments in an organization. They have the authority to manage all employee-related issues and complaints. If an employee has any queries or facing any problems, they can refer them to the HR department. Whether you have a personal conflict at the workplace, complaint, due promotion, annual evaluation, or matters related to employee salaries; all such issues are handled by the HR department.
All matters relating to salaries are handled first by the HR department and then forwarded to the accounts department. If your salary is delayed, less than expected, or incorrect, you may directly contact the HR department. Depending on the culture or structure of your organization, you may go directly and talk to the concerned HR professional or you may write a formal email.
Salaries and wage calculations are complex, and it is not uncommon to make errors. Errors may particularly be higher in large organizations that employ hundreds of employees. Managing each employee's timings, working days, and salary breakdowns are complex. Even with the use of software, sometimes errors may occur. As a result, an employee may be underpaid or overpaid. These errors are not a very big deal and can be rectified with the next payment.
An employee may receive a salary different than the actual salary and this could be due to many reasons:
An error on behalf of HR in calculating days off or working hours logged in
A bonus is given for good performance or achieving a target
A deduction for provident fund
A tax deduction
Changes in taxation rates or insurance rates
A deduction for advance salary taken earlier
A deduction for a loan taken earlier
Apart from these, there may be other reasons for incorrect salary or a salary amount that is different from what the employee was expecting. For such issues, an employee may write to HR and inquire about the breakdown of the current salary.
1- Letter to HR for incorrect salary
Date:
Subject: Incorrect salary
Dear [name of concerned HR personnel],
I am writing to inquire about the amount I received as the salary for this month. My net salary every month is [enter amount]. However, this month the net salary I received was [enter amount]. There seems to be a difference of almost [enter differential amount]. I am unable to understand the deduction. Kindly provide me with a salary breakdown for this month. Moreover, if an error has been made, please ensure that it is adjusted in my salary next month.
Look forward to your cooperation.
Sincerely,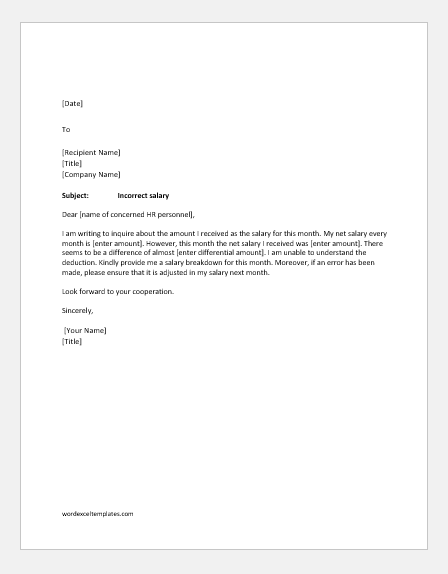 2- Salary discrepancy letter
Date
Subject: Salary discrepancy
Dear [name of concerned personnel],
This is to inform you that my net salary for the past two months has varied. In the month of [enter month], I received a salary check of [enter amount] which is my net salary after adjusting for taxes and other deductions. In the subsequent month, I received a salary cheque for [enter amount]. I am unable to understand the variance in my pay cheques from month to month. Therefore, I would request you look into the matter and help me understand the discrepancy.
Look forward to your assistance.
Sincerely,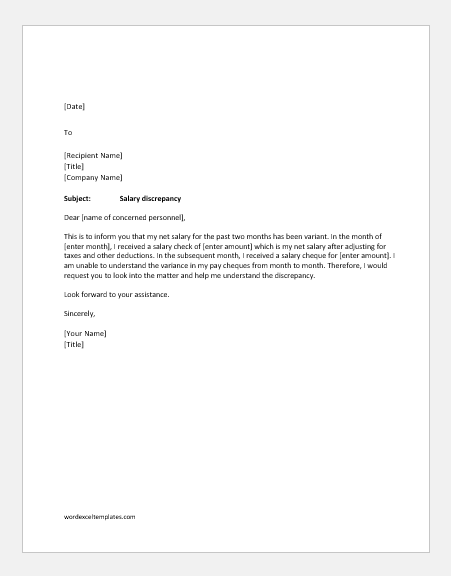 3-
I request you to bring your kind attention to a matter pertaining to my salary. This month, I have received only (mention amount) even though my net salary is supposed to be (amount). I don't understand this discrepancy.
I need my full salary to pay my building rent and manage other domestic expenses. I, therefore, request HR to look into this matter urgently. I would really appreciate it if this issue is resolved by the earliest.
Thank you for your consideration.
4-
I am writing to humbly request HR for reviewing the amount of salary I have received this month. My monthly salary amounts to $5,000. However this month, I have received $4,000. I have not been informed about the reason why a sum of $1,000 has been deducted this month.
I have been regular to work and haven't been on leave the previous month. I do not understand the deduction that has been made. The finance department has most likely made a mistake. If that is the case, I request you to reimburse me for the mentioned amount.
I would really appreciate quick action to be taken in this regard. Looking forward to your response.