The letter in response to applying late is written to the candidates who were unsuccessful in submitting the application form on time. The letter is written by any school, college, university, or company for the late submission of the forms or any other requirements.
It may be possible that some unsuccessful candidates will contact you to find out why they were unsuccessful for the position. So, it is better to mention the reason in the letter. You can also keep the notes you have taken from the selection process. This will help you answer all the questions you may get from unsuccessful candidates.
Keep in mind that the reason for not selecting the candidate should be specific and based only on the late application. It should not be based on their age, family, or race, as it is unlawful.
Samples
#1
I hope this finds you well. I am writing this letter to inform you about the cancellation of your application regarding the ABC job at XYZ Company. This is to let you know that your application was delayed for two days, which is unacceptable. The last date for submission of job applications was __/__/__; therefore, all the applications received after the due date are not even considered as per company policy.
Regardless of your application status, our company takes great pride in the fact that you took an interest in applying to our company for the job vacancy. Our company follows a set of rules for the recruitment process so that every deserving candidate is given a fair chance of proving themselves. Moreover, it is disheartening to experience that applicants with great qualifications and experience do not take the application process seriously. It is crucial to remember important dates while applying and keep following the company's website for more accurate information.
I hope you have many more opportunities to consider and enjoy a bright future ahead of you. We wish you all the very best in your further endeavors.
#2
I am writing this email to officially inform you about the rejection of your job applications because you were unable to apply by the due date. We had a job vacancy for an ABC post, and everyone with the required qualifications and experience was able to send their application so that they would be considered for this job.
While going through your application, I was impressed by your skills and experience in the following fields. You could have been an asset to our company, but we cannot bend our rules for your application. It is customary for every applicant to submit their interest in the form of an application within the due date; otherwise, their resume will not be considered.
To maintain a fair policy of selection, it is important that we stick to our criteria for recruitment. Submitting an application is usually the first step toward acquiring a job, which then leads to interviews and other formalities. It is essential to be prepared for such applications and make a lasting impression. Delayed applications indicate lazy behavior and an easy attitude among applicants who do not care for the job or the efforts of the company and its members.
Nevertheless, our company often provides job opportunities at regular intervals; therefore, keep an eye out for such vacancies and apply in due time.
I wish you good luck in your future.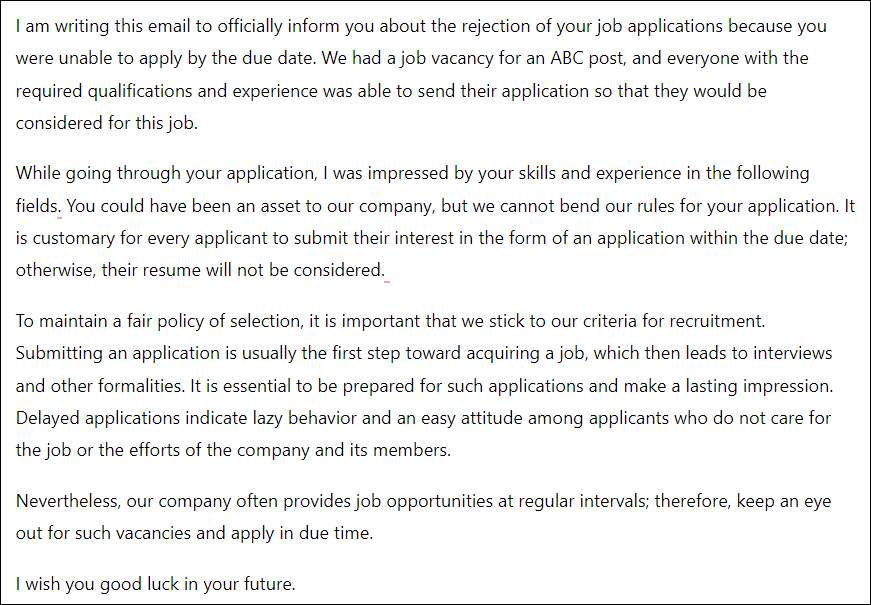 #3
I hope you are enjoying good health. We received your application for the ABC job vacancy on __/__/__. We regret to inform you that your application was immediately canceled because you failed to apply within due time.
It is very regrettable that many deserving applicants are not even considered because the application deadline has passed. Each company follows a set of rules for hiring applicants, which can be modified in their favor, but some rules are so basic that they cannot be molded for anyone. Applying within due time shows the applicant's seriousness and enthusiasm to achieve the position, but failing to do so indicates a laid-back nature and an inability to follow rules.
Therefore, it is important to stick to the original recruitment plan and not bend the rules at such initial stages. I hope you find other job opportunities and become successful.
#4
I am writing this letter to officially state that your application for a job vacancy at XYZ Company has been denied due to late action. We appreciate your interest in employment at our company, but if you had applied earlier, you would have been considered for an interview or other formalities.
You have a great resume, and your skill set will allow you to achieve amazing goals, but our company cannot take this process any further with you because of your delayed application. I encourage you to keep following the company's website and social media pages to learn more about vacancies and ongoing projects.
After regular intervals, vacancies appear, and the recruitment process is never-ending; therefore, do not give up hope and keep working hard. Make sure that all your documents are updated so that you do not miss another opportunity due to a delay in the application process.