A letter asking permission to come late to the work is a document that is prepared by an employee for his employer. In this letter, the employee seeks permission from his employer for reaching late to the work than the usual reporting time.
Employees, sometimes, have some personal or professional commitments, due to which they are not able to come to the office on the regular time. Some of the reasons for late coming could be:
Medical appointments.
Taking care of a family member.
Examination
Job presentations, tasks or training that require the nights' work as well, etc.
When an employee is not able to come to the office at the proper time, he needs to inform his superiors properly to avoid any disciplinary action, that could be taken against his unpunctuality. Therefore, he writes a formal letter to his employer and states the reason for his irregular timing. In addition, he seeks the employer's permission and support for understanding his reason so that he can evade any future consequences.  
The letter needs to have the proper details, and so the employee should write it carefully and comprehensively. Furthermore, the provided reason should not be impractical and invalid. The employee needs to show his employer that his work responsibilities would not be compromised. The general details included in such letters are:
Date.
Details of the employee.
Details of the employer.
The issue and reason for coming late, including the details of the expected time period as well as the number of hours of late coming.
Seek permission.
Provide assurance of quality work.
Salutations and signature.
If the letter gets successful in gaining the employer's permission, the employee can comfortably fulfill his commitments for the stated time period. However, as it goes into the record, the employee should ensure that he does not misuse the idea of coming late to work.
Sample Letter Asking Permission to Come Late to Work
Date
Name
Address
Dear Mr. David,
I am writing this letter to seek your permission for coming late to work for a few days.
I recently had a baby and my maternity leave has now ended as well. I tried to find a nanny during my leave but could not. I am still trying to appoint a good nanny, and until then I cannot leave my baby alone. My husband has rearranged his schedule, and he can be home from 11:00 a.m., which means I can reach the office by 11:30 a.m., instead of 9:00 a.m. I want to request you to grant me permission to come late to the office for a couple of days, at max a month. I will try to speed up my search further. As for the work, I ensure that it will not be compromised, and I will work for the morning hours from home.
I hope you will understand my situation and allow my late coming. Thank you for your support.
Regards,
Emily William.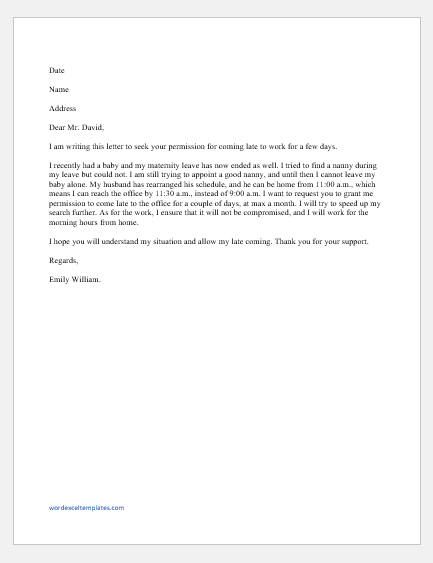 File: Word (.docx) 2007+ and iPad Size 18 Kb |
Download
---