The term 'leave application' is basically defined as a formal way of thinking to take a break from the official work for a specific time period. This leave application process is not just followed on an official basis but even for the educational terms as well.
If you have been a school going student, then you would have remembered that your parents used to submit a leave application before giving you a break. There are certain rules which are needed to be followed in terms of writing down the leave application letter. It is important that you should be mentioning the actual reason why you are asking for the leave and the number of days for the break.
In order to take the break, it is important that your leave application should be approved by the organization. In case if they neglect the application, you would not be allowed to take the break at all. Therefore it is important that you should be having a genuine and valid reason to take the break.
Overview of Different Types of Leave Applications:
When it comes to the working environment, then choosing a professionally designed leave letter can make a big difference as regards the communication is concerned. It is important for you to create a leave application letter which is included with the email for different reasons. Few of the basic reasons can be as mentioned below:
Application for the sick leave
Leaving to visit a doctor
Medical based leave
Leaving for marriage
Maternity or Paternity leave
Leaving for an important work
Annual leaving request
Study leave
Family supporting leave
Leaving for community service
Leave application for some visiting sick mother or father
Leaving for vacation
Leave because of adverse weather
Sabbatical leave application
Unpaid leave format
Leaving for funeral
What is the Actual format of Leave Application?
There are so many important things that are involved in order to make the leave application format successfully approved. In almost all kinds of leave application formats, you have to follow a specific kind of procedure to make sure that the employer has been fully convinced over it. Here we are explaining you a common format which you can use for leave application writing:
From,
Your name:
Designation:
Company name:
Date (Write the date on which you are writing this letter)
To,
Name of the employer:
Designation:
Company name:
Sub: Write down your subject of the application here
Main Elements in Leave Application Format
Section 1:
In the first section of the application, it is important to give away all the details related to the employer and mention it in clear words that you are looking forward to taking the break from the official activities. You should be mentioning a good reason due to which you have been thinking about taking the break.
Section 2:
In the section, you will be letting your employer know about the details of those projects which you have finished successfully and which are already pending. Mention the status of the projects in a detailed manner. You should mention that you are taking the whole responsibility to handover the pending projects to responsible and trustworthy team members.
Section 3:
In the last portion, you will be mentioning the words of being grateful for considering the leave application. You should mention your personal contact number in case of any sort of emergency situation.
Now you have to do the closing of the leave application format in a way as mentioned below:
Closing:
Yours faithfully,
(Your signature here)
___________
(Your name here)
Currently, the companies are more finding it suitable to get into communication with the employees in the formal and informal manner of emails. This is the main reason that if the employee has been looking forward to getting the leave, then it is important for them to get in touch with the employer through the email system.
Letters can perform the same job as well but now that trend has become old. You can easily send the email so you can explain every single point in detail and can even make editing easily if you required to do so. Right here we have some basic tips to follow while writing leave application:
You should mention all the details in a humble and gentle way.
Make sure you mention all the details including the reason for your leave-in clear and simple words.
Don't over-drag the application letter by making some long paragraphs. Your employer will never read it.
Different Samples and Formats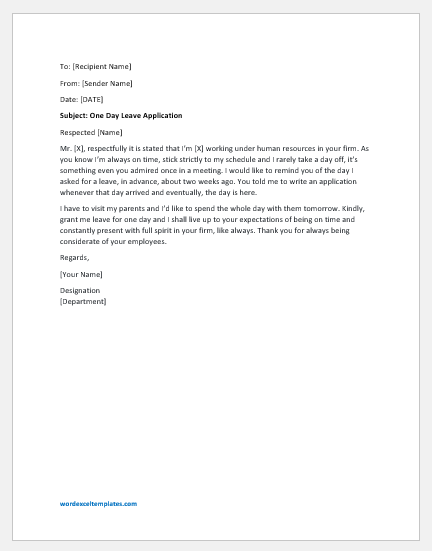 File: Word (.docx) 2007+ and iPad Size 28 Kb |
View all the Samples –>
---