If you feel that the current number of people working in your company is not enough and your company does not make any progress due to a lack of staffing, you will have to hire a candidate for a specific position. In some cases, employers first create a position and recruit someone for that position.
What is the justification for hiring a candidate?
This is a type of proposal letter in which you propose an idea to a company to hire an individual for some reason. The company wants to know you are proposing such a thing which is totally based on the internal decision of the stakeholders. In this situation, you will have to write a justification letter for hiring a candidate.
When you are writing this letter, you should know that your main job is to convince the reader that your justification is valid and makes sense.
Give your introduction and description of your company so that the company can see that you have a background in the area of human resource management and therefore, your justification can be something it can rely on.
Be clear about what you have to offer and how it will be beneficial for the company also.
Keep the letter short and don't try to use a defensive tone or long explanations as it will make the reader feel that you are not being truthful or your motive is not fair.
Two sample letters have been given below for your better understanding:
Sample letter 1:
Date:
Subject: Need of hiring a candidate for [X]
Respected sir,
In recent months, it has been seen that your company has started to produce such products that have very low quality. The material of the product is not generally good and customers are constantly complaining. The product I purchased from your company also stopped working after two days. I was so surprised to see this because this didn't happen in the past.
Considering the past quality of your products, I can easily see that you need to hire a quality assurance engineer who can perform different types of testing on the product before it is launched in the market.
We can provide you with a highly qualified and talented quality assurance engineer who is adept at conducting testing of the product. I believe that after reading this letter, you will create a position for a QA engineer who will ensure that products are launched in the market with fewer faults and better quality. This way, you will be able to make a professional image of your company. Thank you so much for your consideration.
Sincerely.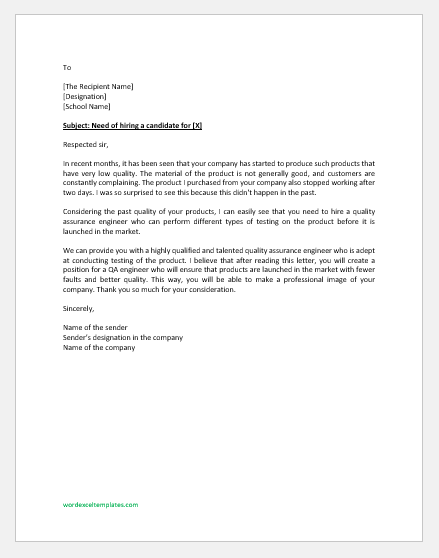 Sample letter 2:
Subject: Justification for hiring a candidate for [X] department
Respected sir,
I hope that you are doing well. The purpose of writing this letter is to draw your attention towards the software that your company has launched recently. It is full of bugs and errors. It seems that it has been launched without giving much consideration to the testing phase of the software. Due to this, all the users are complaining about bugs.
I am writing this letter to propose that you hire a new candidate who is adept at carrying out various types of software tests including unit testing, integrated testing, etc. This will drastically improve the quality of products you give to the market. In addition, it will help you grow your software house.
Our company offers hundreds of talented and qualified individuals for software houses. We believe in delivering quality. We are ready to help you recruit a quality assurance engineer in your IT company who will be responsible and do his job with diligence. Remember that, the final decision of hiring the candidate will be yours and we will not force you to hire anyone.
However, it is humble request you produce a position of QA engineer in your company. We will look forward to your response.
Thanking you,
Sincerely.