It is very common for different businesses to write emails to their clients and customers. Communication between people and companies is crucial for effective marketing and sales.
If you are running a business and your job is to provide products or services to different clients and customers, you might get an email from someone interested in buying your services or products. However, people don't make a quick decision without giving any consideration to the price. Therefore, they write you a letter or email and ask you to give the quotation.
It is an electronic mail that you write when you respond to a request for a quotation. When a business receives a request for a quotation, it is bound to write a response email.
When you are working as a supplier, you should always be prepared to write a response email because it is very common practice for suppliers to receive quotation requests and then write a reply.
Make sure that you remember the following points when you are responding to a request for a quotation:
Always read the request email or letter carefully so that you can be in the position to write a reply if needed by the recipient.
Do not try to use technical language in the email that is not easily understandable by the recipient.
Make sure that you provide only those details that have been requested by the client or customer.
Read the sample email given below for your understanding:
Sample email 1:
To:
From:
Subject: Response to a quotation price for [X]
Respected sir,
Recently, we received an email from you in which you requested us to share the quotation of the services that we provide for your upcoming project. First, we are so glad to see your interest in our products and services and it is a great honor for us to be able to provide you with the quotation.
Our company has received a lot of emails in which we have been asked to give the quotation. In addition, many customers have approached us for their services and sent us proposals. We are currently reviewing their proposals and therefore, currently, we have not come up with a final quotation. It would take at least a week for us to decide as to which quotation suits us the most and matches our interest level.
You are requested to show patience as we will get back to you in a week or more with the price quotation. For further inquiries, you can contact me and get assistance.
Thank you once again for considering our company for your valuable business. We would love to serve you with our best services.
Regards.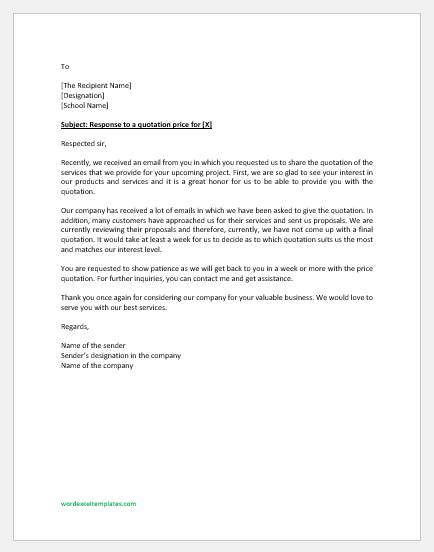 Sample email 2:
To:
From:
Subject: Response to a quotation price
Respected sir,
We are pleased to have received your request for a quotation for our services.
Please find below the list of products and services and their price which we offer them:
| | | |
| --- | --- | --- |
| List of products | Prices of each product per unit | Specification |
| | | |
Here, I would like to tell you that we offer a 30% discount to our first-time customers and also offer a 10% discount to our regular customers. We love to acknowledge people who remain loyal to our brand and trust it.
It is a great honor for us to send you the price quotation as we hope that we can work with each other and serve each other in the best possible way. We assure you that you will never be disappointed by our service. Our quotation is negotiable. You can negotiate with us whenever it is necessary.
If you have any questions in your find, please feel free to contact us and share your concerns with us. You can contact us during our office timing from 4 am to 3 pm. Thank you once again for considering us for said price quotation and writing us an email. We will look forward to your kind response and we hope that the stated price quotation is suitable for you.
Regards,
Name of the sender
Sender's designation in the company.