You can make a bid for a construction project if you want to work as a contractor or a subcontractor. The person you are writing this proposal receives many proposals from different people. Therefore, you need to write a type of proposal that stands out.
When you write a proposal considering a specific construction project, you will have to write a construction bid proposal. In this proposal, you let the reader know that you are interested in that project. Furthermore, it is your responsibility to mention that you want to complete the construction project and the amount that you charge for your services.
Who writes this bid proposal?
There is no rule about who can write the proposal or who cannot. However, in general contractors and subcontractors write this proposal letter. They want to get the contract of undergoing the construction work and then they earn money. If you are running a construction company that works for other people, you can always get the project by writing different proposals.
What are the different types of proposals?
Two types of proposals are there which are given below:
Solicited construction proposal:
A solicited proposal is written in response to a request for a proposal. In this proposal, the request is taken into consideration and then a proposal is tailored.
Unsolicited construction proposal:
When you don't have received any requests but you know that writing a proposal can help you get a project, you can write an unsolicited construction project proposal.
Read the sample letter in the following:
Sample letter 1:
Subject: construction bid proposal for [X]
Respected sir,
We would like to take the opportunity to write you a proposal letter in response to a request for a proposal we received on 15th September 20XX for the construction of an office.
Our construction firm has been working on various building works for the last 5 years. We have finished many projects during this time. Our team of engineers and designers work in collaboration to reach a beautifully designed construction structure.
After having a thorough review of the work you want to be performed, we have concluded that the project will need at least 2 months to complete. Since you have not mentioned the budget of the project, we are not in a position right now to give you the pricing information.
We would like a meeting with you to discuss lots of things that have not been covered in this proposal. We look forward to a positive response from your side.
Thanking you.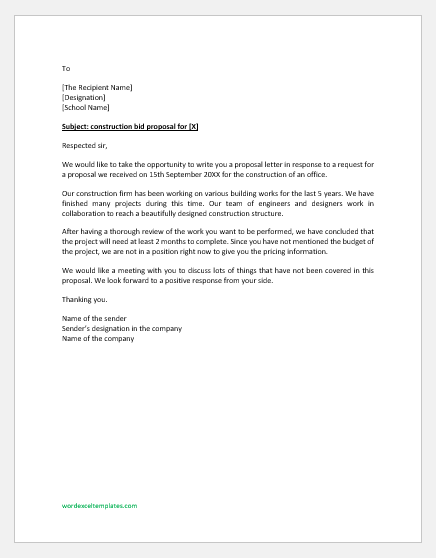 Sample letter 2:
Subject: [ABC] construction bid proposal for [XYZ]
Respected sir,
We are pleased to have this opportunity to write a proposal letter in response to the request for a proposal that you advertised in the newspaper for the construction of your office. We have thoroughly reviewed the entire project and its requirements and have concluded that we have a tendency to work on this project and meet your needs.
As a construction company, our objective is always to meet the needs of our clients and design a construction structure that shows compliance with safety regulations and looks aesthetically pleasing at the same time.
Based on the amount of work you have mentioned in the description of the project, it will take more or less 2 months to complete this project. Our team can also speed up the work in case you want it to be finished a bit earlier than planned. However, for quick work, more money will be charged.
Details of pricing and a complete timeline of the project completion have been attached to this letter. If you like our proposal, you can conduct a meeting with us. We are ready to discuss things in more detail in a face-to-face meeting with you.
Thank you so much for giving us this opportunity to write a proposal for a project for a prestigious company like yours.