People working in different organizations often need to write a letter or email to their employers whenever they need a slight change in work. This request is generally made due to some medical or personal reasons. It is the right of the employee to ask for accommodation if his problem makes sense.
It is an electronic mail that people write to their bosses whenever they need a little adjustment in their work. In this email, the employee lets the employer know that he needs some flexibility from the company because he has some genuine problems.
When to write?
An employee can write this email when:
There is some sort of urgency and therefore, he wants the employer to read the request immediately.
The employee has some issues with his health and his medical practitioner has restricted him to do several things that he is required to do at the workplace such as standing for a long time
The employee has found himself in a situation in which he cannot leave his home and therefore wants to apply for telework.
Attributes of a professional email:
An email that is perfectly written has the following characteristics:
The email is meaningful yet short.
It contains the description of why a person needs to apply for the accommodation
It has an attachment of the document that is proof that the person's request for accommodation is justified.
Read the sample email given below:
Sample email 1:
To:
From:
Subject: Request for accommodation at [ABC] as per [X]
Respected sir,
I am writing this letter to make a humble request to you to make some accommodations for me at my workplace. As you know, I am pregnant and currently I am in my second trimester.
Yesterday, I visited my doctor and after ultrasound reports, the doctor confirmed that I have some complications due to pregnancy and things can take a turn for the worse if I do not take care of myself. The doctor has prescribed some restrictions for me pertaining to the workplace. I would like to share them with you so that you can provide me with some suitable accommodations. The doctor has asked me to:
Take rest after every 2 hours.
Don't keep standing for more than 30 minutes
Eat something every 1 hour.
Don't walk or run around too much
As per the rules of the company, every female employee is entitled to getting several accommodations during her pregnancy. I am applying for some changes in my work schedule and mode and I hope that you will understand my situation.
I believe that I can work to my full potential if I am given some flexibility as my pregnancy is coming in the way of my productivity because I am not taking care of myself.
It is requested you please consider my request so that I can work with convenience. Attached is the prescription of the doctor and my ultrasound report which is indicative of the pregnancy complications I am referring to.
Thank you so much for your support as you have always been so caring and compassionate.
Yours truly.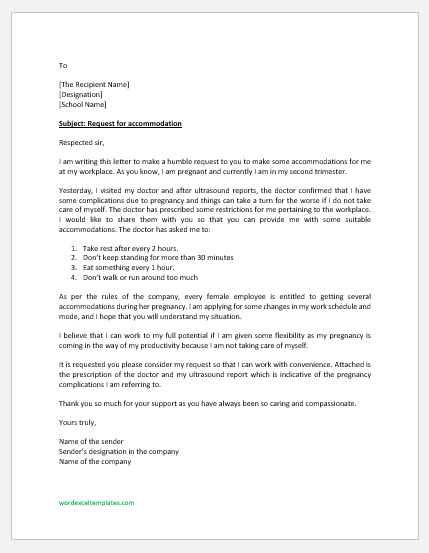 Sample email 2:
To:
From:
Subject: Request for accommodation at [X] for [ABC]
Respected sir,
I am ___________ (mention your name) working in the customer care department of the company. Recently I had an accident while coming to the office and I had some severe injuries to my body. My right leg bone is broken, and I have gone through surgery.
Since there is a rod in my right leg, I need to be careful. Although I can work now like normal people, my leg is not in a position to move. Therefore, I would like to request you allow me to work from home. The workplace accommodations will make it very easy to perform my duties during this hard time of my life when I am bedridden for a month.
I am attaching my medical report with this email so that you can see my condition. Thank you so much for your support. I am looking forward to your response.
Yours truly.