It is very common for employees to request their employers for a raise in their monthly payments. With the increase in inflation, employees face a hard time, and therefore, they want to get an increment in their salary. Considering the needs of the employees, employers promise an increment every year. However, there are certain situations when the employee deserves an increment apart from the annual increment.
When you have requested the increment and the employer has asked you to come up with the reason why your salary should be increased, you can write a justification letter to justify the increment.
You can either write this letter for yourself or someone else because you have been given the authority to monitor the performance of employees.
Writing a great letter needs a few things to keep in mind. The following are given some important points not to forget before you draft one.
Don't forget your goal:
The purpose of writing the justification letter is always to provide some convincing reasons as to why the increment has been requested. If you don't forget the purpose, you will always be in the position to write the best justification.
Discuss the performance:
If you have applied for an increment because the performance of an employee is the reason, discuss the performance of the employee in detail. Mention the milestones he has achieved so that the justification can make sense.
Mention how much increment is justified:
Although it is the job of the employer to decide how much increment is justified, you can suggest the increment in the salary of the employee in percentage.
Read the sample justification letter given below:
Sample letter 1:
Subject: Justification for a salary increase for the employee [NAME]
Respected sir,
I am (mention your name) and have been working in the marketing department of your company for more than 5 years. Last year, I was promoted to the new position of marketing manager. Due to this promotion, my job responsibilities increased and I had to take on more of the burden of office work.
I have worked hard with my marketing team and always tried to meet the goals of the company pertaining to marketing. Due to the efforts of my team working under my supervision, there has been a prominent increase in the sales of the company. I believe that this is a huge milestone in my career. Due to this achievement and also because of the promotion, I deserve to get a pay raise.
Through this letter, I am requesting you increase my salary. I believe that this increment in my monthly pay is justified as I have worked for the company with diligence and passion. You can also ask the manager of the company to share my performance report with you.
It is my humble request to consider my performance report and justified reasons for the salary increase. I will wait for your response.
Regards.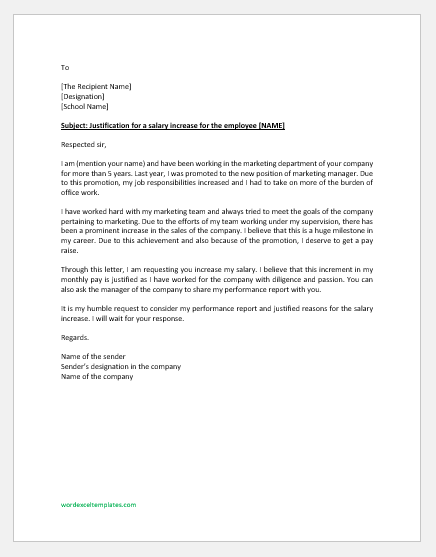 Sample letter 2:
Subject: Explanation of salary increase vid: [X] for [ABC]
Respected sir,
I am writing this letter on behalf of Miss Lisa who has been working as a teacher of Mathematics in your institute. Miss Lisa is a very diligent and hard-working teacher and her students are inspired by her.
Recently, three of her students have topped the levels exam with A grades in Cambridge. I am an eyewitness to the hard work she put in. I believe that at this point, she should be appreciated by the school with a prominent increment in her salary.
Her class has also shown 80% results in mathematics. Based on her performance, I have prepared her report and I am attaching it with this letter for proof. If you want to know more about her performance, you can convene a meeting with me or with Miss Lisa.
An institute that values its teachers always makes progress and earns respect in society. It is our responsibility to never discourage a teacher who is always in a position to show exceptional results. I look forward to your quick response.
Thank you.