Anyone who comes to office late is never appreciated. The habitual tardiness is very dangerous for the career of an employee. The employer can terminate the employee for regular tardiness. However, if there is a problem in your life that causes you to come late to the office, then your employer can deal with your tardiness positively.
As a professional employee, you will always have to avoid tardiness. There are some situations when it is totally impossible to avoid such as heavy traffic or any type of breakdown.
You may come to office late even if you were intended to be on time. Apart from heavy traffic, the breakdown of your personal vehicle can also be the reason for your tardiness.
Regardless of the reason, it is always advised to apologize by writing an apology letter to your supervisor. It is important to write because it enables you to inform the supervisor about the genuine reason for tardiness.
Write the explanation letter for tardiness by bringing the reason of it to their attention. The reason should be given as an explanation. Some people write the reason for an excuse that weakens their case. Make sure that you adopt complete professional while writing this letter.
Why is it important to write explanation letter?
Some companies have very strict rules for latecomers. Not writing an explanation letter may create many misunderstandings. The employer may end up deducting your salary for coming late.
Consequently, sooner or later you will have to write the apology letter along with an explanation. Due to this reason, the explanation letters have a special place in professionalism.
Letter body:
I am very sorry for coming to office late due to very heavy traffic. I left home very early with the intention to reach the office on time. There was an accident on my way due to which the traffic was blocked.
I am so sorry for that and I promise that it will never happen again. I will request my driver to use appropriate alternative way. I hope you will understand my situation.
Sincerely,
Preview and Details of Template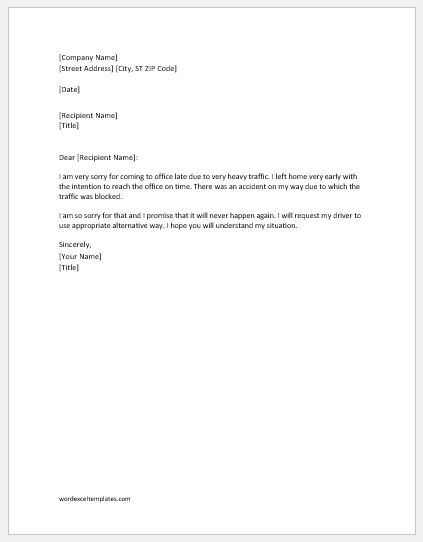 Explanation Letter for Tardiness
File: Word (.docx) 2007+ and iPad 
Size 54 Kb   | Download
[Personal Use Only]