Thank you messages of appreciation
Appreciation is very important for every individual because it motivates him and he can grow in his life. There are many people in our lives who teach and inspire us to become a better person. If you want to express gratitude towards such people, then you can send them a message of thank you for appreciation.
Thanking someone who appreciates you to be motivated in life is not only a good but also the best thing to do. The purpose sending someone a thank you message is to validate what he/she has done for you.
Sometimes it becomes very difficult for you to find right words to say thanks to someone. There is always someone in our life who wants to see us in a better place.
They may make us feel this through their actions or words. No matter in which way they appreciate us, they always deserve to be thanked.
Many people think that writing the thank you message is not something that works. In other words, they underestimate the words of thanks. It is very simple to write the thank you letter if you know how to. All you must do is stick to few rules and you will be able to write a powerful message full of gratitude.
Before you choose words to say thanks to the recipient, assess the type of relationship you have with the recipient. After an assessment, you can easily write the thank you message.
A thank you message written to a boss can have different words than the one you want to write to your friend. The tone of the message also depends on your relationship with the recipient.
Although there are only two short words in the message that is important for the recipient, you can write them in a number of different ways to write the message differently.
Sample Message for Appreciation
Thank you so much for appreciating me on increasing the sales of the company. This message is being sent to remind you that your efforts to appreciate me have not gone unnoticed. I value every word of appreciation you said to me.
Sample Templates
#1
There is a sample appreciation text in the image. You can directly forward this image to thank you otherwise this is MS Word file which you can download easily. After download, you can make changes to the text and send.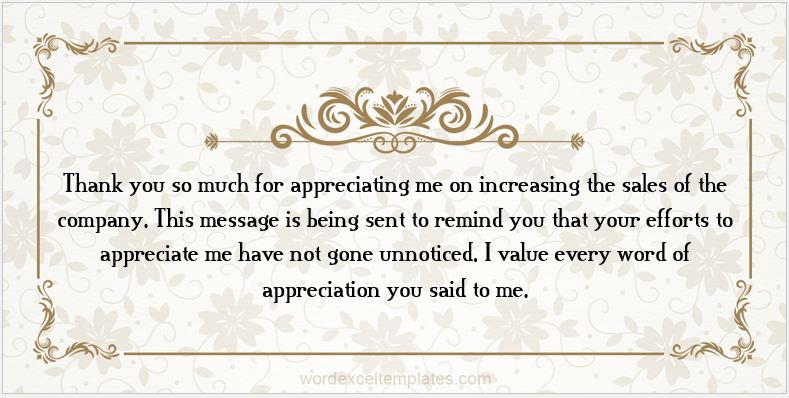 Size: 906 KB |  Download
#2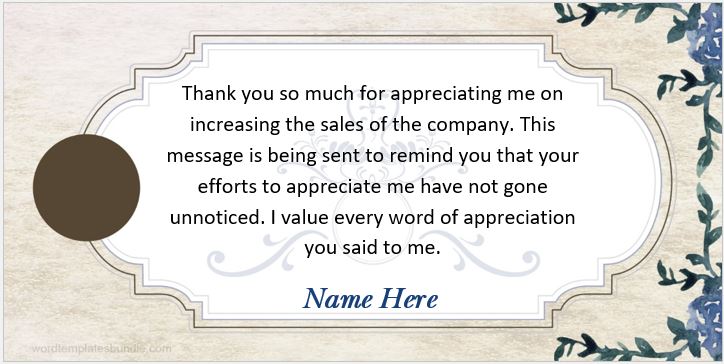 Size: 652 KB | Download
#3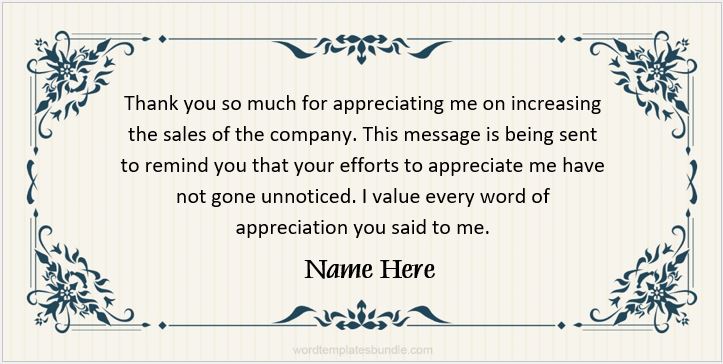 Size: 612 KB | Download
#4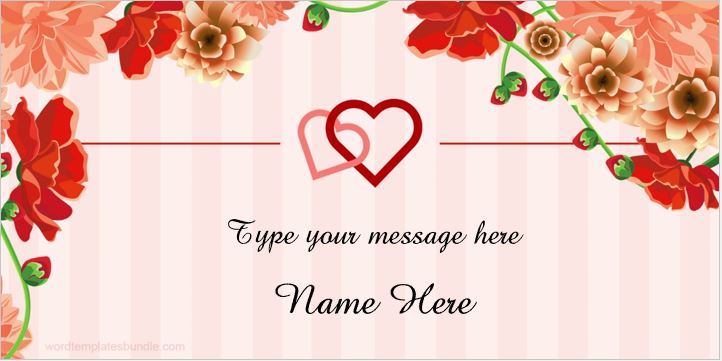 Size: 700 KB | Download