What is beneficiary designation form?
Beneficiary designation form is used when you want to designate the people who will inherit the assets. There are many insurance policies and retirement plans that help you choose the beneficiaries who will be able to get the benefits of your assets after your demise.
The people who directly inherit the assets are called primary beneficiaries. However, in case the primary beneficiary is absent, the assets will be inherited to secondary beneficiaries.
How to designate the beneficiaries?
In order to designate, you are required to provide the names of people you want to be your beneficiary as well as the percentage amount of assets they will get. The common beneficiaries are a wife, children and other relatives of the person. The friends can also be beneficiary in some cases.
Before you designate your beneficiaries, you should reconsider every person because they will become active as soon as you will retire from the job. They can override the information provided by you.
The best way to designate them is to use the beneficiary designation form. This form contains all those details that a person is required to provide to complete the process of designation. It enables those people to fill the form who don't know much about the right and legal process to do so.
How to create the beneficiary designation form?
The form should be started with the name, company, policy number, certificate number, and phone number etc. of the benefited.
Since the process of designating the beneficiaries is an important process that should be done with great care, there should be a separate column in the form where you will have to provide the names of primary beneficiaries. This column should ask the reader to provide the information about the name, email address, the relation of the benefited with the beneficiary, social security number of each beneficiary, date of birth, the percentage of assets that each beneficiary will get.
You should provide the same details if in another column of the secondary beneficiary if you have any.
At the end of the form, there should be a space for the signatures of benefited.
Preview and Details of Template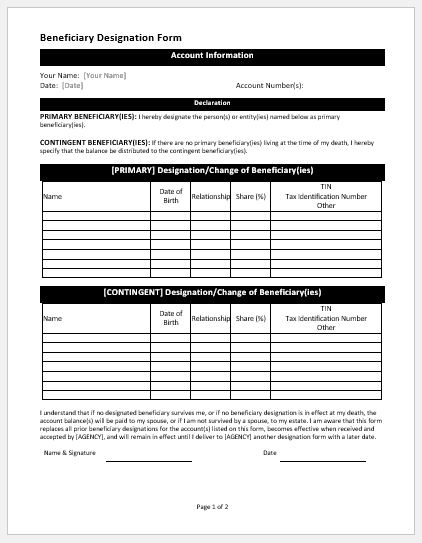 Beneficiary Designation Form Template
File: Word (.docx) 2007+ and iPad 
Size 44.6 Kb   | Download
[Personal Use Only]