The dog has become one of the most loyal and best friends of the human being. Many people like to keep a dog as a pet because of the loving nature and good attributes of dogs. Anyone who wants to purchase the dog has to consider a lot of factors.
One of the main factors is to find a seller who deals with high quality and healthy dogs. It is important to keep both buyer and seller on the same page. For this, the bill of sale can be signed by both.
What is dog bill of sale?
A dog bill of sale is used to record the transaction between the buyer and the seller regarding the sale of the dog. When the ownership of a pet dog is transferred, there takes place a transaction of money.
The dog bill of sale records the deal in monetary terms. It also acts as a receipt which is provided to the buyer to give him a clear idea about the purchase s/he is going to make.
If the age of the dog is more than one year, there is a unique registration number which is assigned to the dog. When the transfer of ownership takes place, the seller also has to transfer that registration number.
Details to be included in the dog bill of sale:
The main details that are added in this bill are:
To total purchase sum
The name of seller
The address of seller
Details of dog such as name, date of birth, sex, registration number, breed details etc.
Details of disclosure period in which the buyer will have to inspect the animal
Laws of the states regarding the sale and purchase of dog
Seller's signatures
If there is any additional detail that you want to be added to your bill of sale, you can add them.
A bill of sale lets the buyer know about the main contents of the dog sale agreement. The buyer can know about the health of the dog through the bill of sale in which the seller has mentioned the details of dog's health.
Preview and Details of Template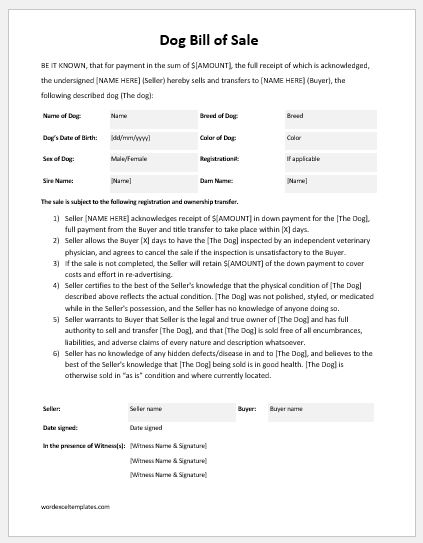 Dog Bill of Sale Template
File: Word (.docx) 2007+ and iPad 
Size 54 Kb   | Download
[Personal Use Only]