When it comes to being a professional at work, you are required to be punctual. When you come late to your office, you disturb the entire team of yours. Every project that is assigned to you gets late and you end up causing the development of the company to slow down.
Every person commits mistakes on the job. The tardiness of the employee can be ignored if it happens once a month or quite rarely. However, if the employee comes to the office late on a daily basis, then the employer may ask the employee to provide an explanation letter for habitual tardiness.
The explanations for any unprofessional behavior can be asked to provide when the employer is thinking to take some disciplinary actions against the employee such as deduction from salary or terminating him from the job.
The purpose of an explanation letter is to let the employer know about the reasons behind your habitual tardiness.
It is possible that he will consider your explanation if he finds it reasonable. Make sure that you format this letter in a professional way so that it can put a positive impression on the mind of the reader.
The explanation letter also serves as an apology letter. Apology statements are encouraged by employers. Tell the employer that you are worried about your job performance which has declined due to habitual tardiness.
Also, tell how and when you are going to fix all the potential problems faced due to your habitual tardiness.
Here is a sample letter of apology that you can be used to apologize for your tardiness.
Letter body:
I have received a warning letter for habitual tardiness for the last three days. I am aware of the fact that my tardiness can compromise my job.
I have been feeling very sick and have an appointment with the doctor in the morning. My medical results will be out tomorrow. I will share them with you. I will undergo the necessary treatment for the improvement of my health so that I can perform my duties well. I apologize for the inconvenience.
Yours sincerely,
Preview and Details of Templates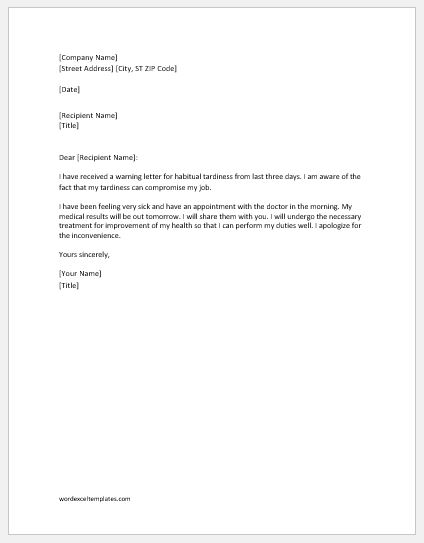 File: Word (.docx) 2007+ and iPad 
Size 29 Kb
More samples
#1
Dear Sir, I have received your message detailing the reason for my coming late to the office. I am so sorry for causing inconvenience and did not inform you on time. The reason was that I was feeling very low due to continuous work. I did not find time to get an appointment with a doctor as I was hell-busy in accomplishing the account's project.
I had an appointment with the doctor on [mention date]. He had warned me of the drowsy side effects of the medicine. I was so overpowered by the medicine's effect that I woke up late. Despite making several efforts, I did not reach the office in time. In order to make a smooth working performance and good health, I will be on a medicine course for two months. I hope you will understand the situation.
#2
I am John Lock and have been working as an assistant director in your organization. This message is an explanation of my habitual tardiness. First of all, I am sorry for causing disturbance to you. The office is at a distance of one hour's travel from my home. I come daily in my car but last week my car met with a small accident. Its front side was damaged and I took it to the repair shop. The workshop remained closed for three days due to an immediate emergency.
I was left with no other option than to come by local train. It took me two hours by train to reach the office. This is the reason for my coming late to the office. I will get my car repaired by tomorrow and after that, you will not face the same problem from my side.
#3
Please take this message as an explanation of my tardiness in following office hours properly. I am guilty ridden of my actions that made you embarrassed in yesterday's meeting. The company lost a very important project due to my irrational behavior.
On [mention date], my mother went through leg surgery. I have no assistant in my home to take care of her during my absence. Before coming to the office, I make sure to provide her with all necessary things for the day. This requires some time which results in coming late to the office. I was not doing it on purpose. It was my mistake that I did not let you know of it timely. I hope you will forgive me.
#4
I am extremely apologetic for not following office timing for the past few days. I received your warning letter yesterday and this message has been proposed in response to that. I not only made you inconvenient but my teammates also get affected badly due to it. 
I have always been a dutiful and responsible employee and never came late to the office. There is only one route from my home to the office and the road I follow to come was under construction. I used to get up an hour early to reach the office in time, but I got stuck badly in the traffic and could not reach the office timely. I hope you will understand the situation and will forgive me.