When it comes to being a professional at work, you are required to be punctual. When you come late to your office, you disturb the entire team of yours. Every project that is assigned to you gets late and you end up causing the development of the company to slow down.
Every person commits mistakes on the job. The tardiness of the employee can be ignored if it happens once a month or quite rarely. However, if the employee comes to office late on daily basis, then the employer may ask the employee to provide the explanation letter for habitual tardiness.
The explanations for any unprofessional behavior can be asked to provide when the employer is thinking to take some disciplinary actions against the employee such as deduction from salary or terminating him from the job.
The purpose of explanation letter is to let the employer know about the reasons behind your habitual tardiness.
It is possible that he will consider your explanation if he finds it reasonable. Make sure that you format this letter in a professional way so that it can put a positive impression on the mind of the reader.
The explanation letter also serves as an apology letter. The apology statements are encouraged by employers. Tell the employer that you are worried about your job performance that has declined due to habitual tardiness.
Also, tell how and when you are going to fix all the potential problems faced due to your habitual tardiness.
Here is a sample letter of apology that you can be used to apologize for your tardiness.
Letter body:
I have received a warning letter for habitual tardiness from last three days. I am aware of the fact that my tardiness can compromise my job.
I have been feeling very sick and have an appointment with the doctor in the morning. My medical results will be out tomorrow. I will share them with you. I will undergo the necessary treatment for improvement of my health so that I can perform my duties well. I apologize for the inconvenience.
Yours sincerely,
Preview and Details of Templates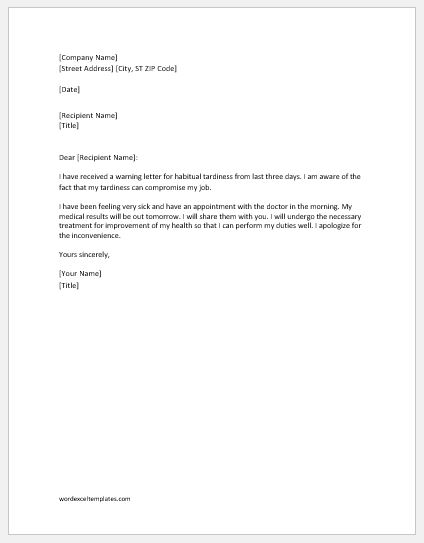 Explanation Letter for Habitual Tardiness
File: Word (.docx) 2007+ and iPad 
Size 29 Kb   | Download
[Personal Use Only]