Apology letters are very important in everybody's life because their use is not very uncommon. All of us make mistakes at some point in our life and then show up with the need to apologize. Realising your mistake and apologizing is a professional attitude.
When you realize that your tardiness has ruined the discipline of the company, your apology letter to your boss can fix the situation. Apologizing for any mistake is a positive part of your behavior which is always appreciated by the management of the company.
The purpose of the letter is to make your boss know that you are willing to compensate and amend the problems caused because of your tardiness. The apology letter serves as a stronger symbol of you regret being late. You can easily write a simple apology letter without putting extra efforts.
What is the format of apology letter?
The formal letter of apologies should include the address of the recipient and the sender. It should be written in a formal way. Include all those details in the letter that are necessary for you to convey to your boss.
Discuss the entire event surrounding your tardiness and the problem caused by it. Explain your plan of fixing the problem since it is the most important part of the letter. Furthermore, a heartfelt apology, as well as humble tone in the apology letter, matters a lot.
Here is a sample letter of apology that you can be used to apologize for your tardiness.
Letter -1:
I am very sorry for being late yesterday. I know it is a very unprofessional behavior to come to work late. My negligence from work has made my entire team suffered a lot.
I have planned to ensure that I am not going to do it again. I am putting efforts to leave no chance to come to office late ever again. I hope that my actions will be able to represent my feelings of regret. I have really enjoyed working in your company and want to continue my job over here.
Sincerely,
Preview and Details of Template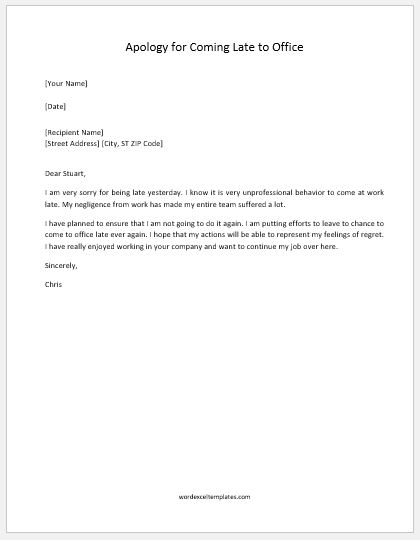 Apology for Coming Late to Office
File: Word (.docx) 2007+ and iPad 
Size 29 Kb   | Download
[Personal Use Only]
---
Letter -2
Dear Joel,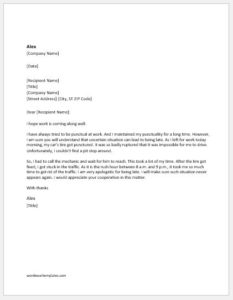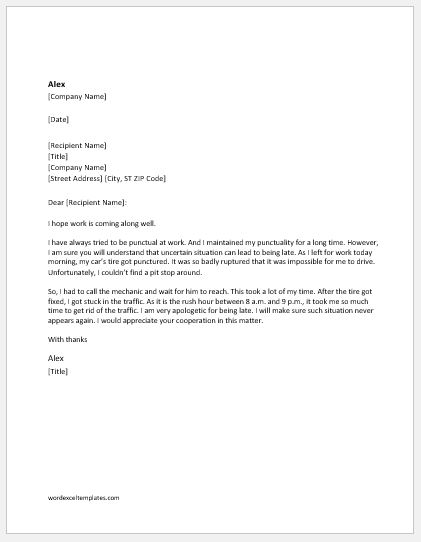 I hope work is coming along well.
I have always tried to be punctual at work. And I maintained my punctuality for a long time. However, I am sure you will understand that uncertain situation can lead to being late. As I left for work today morning, my car's tire got punctured. It was so badly ruptured that it was impossible for me to drive. Unfortunately, I couldn't find a pit stop around.
So, I had to call the mechanic and wait for him to reach. This took a lot of my time. After the tire got fixed, I got stuck in the traffic. As it is the rush hour between 8 a.m. and 9 a.m., it took me so much time to get rid of the traffic. I am very apologetic for being late. I will make sure such situation never appears again. I would appreciate your cooperation in this matter.
With thanks