Coming late to office is against the discipline and rules of the organization. Due to this, the late coming of any individual is never appreciated. Sometimes, you get late from your work even you leave for office in time.
The supervisor will get angry at you if s/he is not informed about the reasons for being late. Moreover, your salary may also be deducted because of late coming. In order to make the supervisor know about the reason for being late, write him a letter.
This letter will also serve as an apology letter from your side. The letter can also be written by the student to her teacher.
The main purpose of writing the apology letter is to bring the reason of late coming to the attention of the supervisor. You also promise through this letter that you will never repeat the mistake.
Tips to write the apology letter:
Here are few basic tips that will help you draft a professionally written and impactful apology letter.
The letter should not be overcrowded with a lot of excuses. Such type of letter may weaken your case and make it hard for the supervisor to accept your apology.
State your reason for late coming briefly. Make sure that the reason is not too long since it is a professional letter which is written very briefly.
Also, provide the possible solution to your problem so that the supervisor can be ensured that this mistake is not going to be repeated again.
Writing a professional apology letter will not let your boss judge you. It is very important to have a good working relationship with your boss that is possible if you choose right words to write the apology letter.
Letter -1: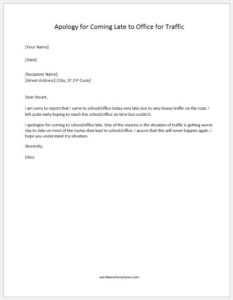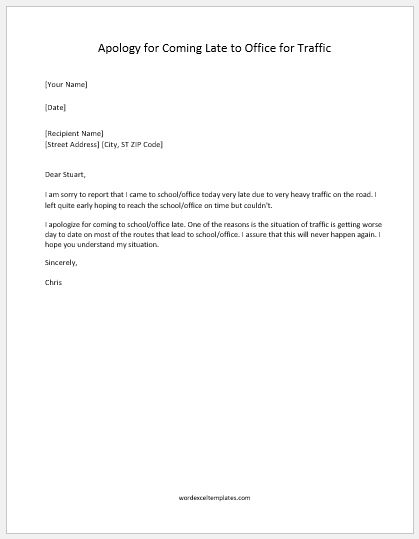 I am sorry to report that I came to school/office today very late due to very heavy traffic on the road. I left quite early hoping to reach the school/office on time but couldn't.
I apologize for coming to school/office late. One of the reasons is the situation of traffic is getting worse day to date on most of the routes that lead to school/office. I assure that this will never happen again. I hope you understand my situation.
Yours sincerely,
---
Letter -2
I apologize for being late to the desk. Infact 25 minutes late as compared to my scheduled duty hours.
The route that I follow to come to office is usually convenient for traffic movements. But, today the traffic was not normal as it took me 15 minutes at the Parklane signal to cross it. I don't know exactly what causes this unusual traffic today.
I assure you I will consider this factor next time to leave my home early so that I can reach office on time. Hope you understand my situation.
Preview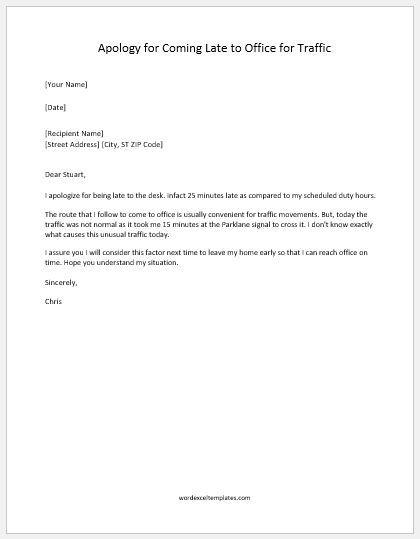 Being Late because of Heavy Traffic
File: Word (.docx) 2007+ and iPad 
Size 29 Kb   | Download
[Personal Use Only]