Coming late to the office is against the discipline and rules of the organization. Due to this, the late coming of any individual is never appreciated. Sometimes, you get late from your work even if you leave for the office on time.
The supervisor will get angry at you if s/he is not informed about the reasons for being late. Moreover, your salary may also be deducted because of late coming. In order to make the supervisor know about the reason for being late, write him a letter.
This letter will also serve as an apology letter from your side. The letter can also be written by the student to her teacher.
The main purpose of writing the apology letter is to bring the reason for the late coming to the attention of the supervisor. You also promise through this letter that you will never repeat the mistake.
Tips to write the apology letter:
Here are a few basic tips that will help you draft a professionally written and impactful apology letter.
The letter should not be overcrowded with a lot of excuses. Such type of letter may weaken your case and make it hard for the supervisor to accept your apology.
State your reason for late coming briefly. Make sure that the reason is not too long since it is a professional letter that is written very briefly.
Also, provide the possible solution to your problem so that the supervisor can be ensured that this mistake is not going to be repeated again.
Writing a professional apology letter will not let your boss judge you. It is very important to have a good working relationship with your boss that is possible if you choose the right words to write the apology letter.
Sample Letters
#1
Dear Sir, I am apologetic for missing an important meeting on [mention date]. Words cannot describe the guilt I am having as we lost an important project because of my tardiness. It was my responsibility to deliberate on all the points during project orientation and make the customers satisfied. My teammates found it difficult to carry on the presentation without the introductory remarks. I have personally sought forgiveness from my colleagues.
All this happened because I was badly stuck in traffic on [mention date] as the two vehicles coming from opposite directions collided and resulted in an accident. Despite making several efforts I could not make it on time. I have requested Mr. Smith to rearrange the meeting and he will let me know as soon as possible. I am sorry once again for the problem I created.
#2
I am writing to you to ask for a formal apology because of reaching out late in the office on [mention date]. I always remain stick to the company's rules and behave professionally. It was very embarrassing for me that my teammates suffered a lot because of my late coming. I am humbly apologetic for this. To get the desired results it is necessary to be punctual at the workplace and as a team lead, I was supposed to set this trend.
I was all prepared to attend the office but on my way, I met with blocked roads. It took me extra time to reach the office. This has taught me a great lesson and I will be cautious next time. I will leave for the office a little earlier than my actual time. I request you to please find a new date for the meeting and we will look into all the things minutely. I am remorseful in making my teammates feel down and I assure you that I will never do this again.
#3
Please accept my apology for appearing late in the office yesterday. I had to pick up my friend from his home and the road to his house was under construction. I tried to go for a short cut but that road was also full of traffic. As a result, I reached the office late. I know the agitation it caused you and I will be careful in the future to avoid such happenings. I regard your resilience in this regard and I will compensate the work loss by working an extra hour daily.
#4
Dear Sir, I request you to take this letter as my apology for showing up late at the workplace on [mention date]. The route I follow to come office daily was closed because of the strike. I followed another route and it made me reach the office three hours late. I am shamefaced to cause disturbance to you and did not inform you that I will come late. I make certain that you will not face such a problem from my side again. I will be a professional and responsible employee and will meet your expectations. I will manage to remunerate pending work within two days.
Letter -5
I am sorry to report that I came to school/office today very late due to very heavy traffic on the road. I left quite early hoping to reach the school/office on time but couldn't.
I apologize for coming to school/office late. One of the reasons is the situation of traffic is getting worse day to date on most of the routes that lead to school/office. I assure you that this will never happen again. I hope you understand my situation.
Yours sincerely,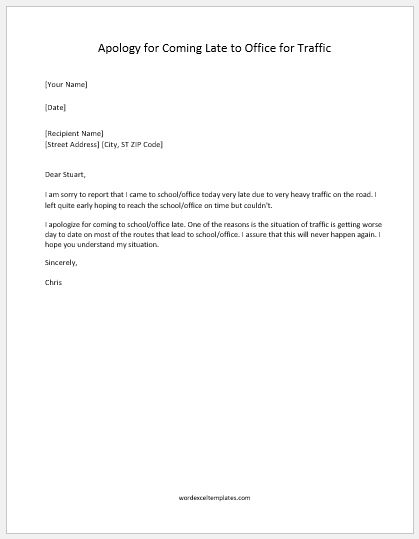 Letter -6
I apologize for being late to the desk. Infact 25 minutes late as compared to my scheduled duty hours.
The route that I follow to come to the office is usually convenient for traffic movement. But, today the traffic was not normal as it took me 15 minutes at the Parklane signal to cross it. I don't know exactly what causes this unusual traffic today.
I assure you I will consider this factor next time to leave my home early so that I can reach the office on time. Hope you understand my situation.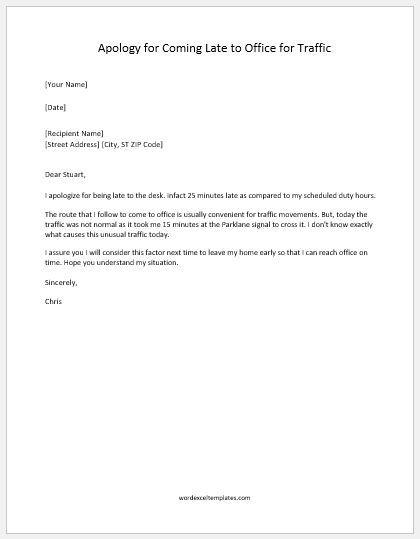 File: Word (.docx) 2007+ and iPad 
Size 29 Kb