A character reference letter is written when you want to refer your coworker for a job. In other words, this letter is written to recommend someone.
What is the purpose of a character reference letter?
The purpose of writing this letter is to recommend someone. Other purposes are court appearances, a statement about the personal character of the coworker, and a lot more.
It can be difficult to write a reference letter if you are writing it for the first time. However, once you have evaluated the reason for writing the reference letter, you can easily put your thoughts on the piece of paper and organize them in the form of a character reference letter.
You may be approached by your coworker who wants you to write a letter of recommendation for him. People who are frequently approached for writing reference letters write a general reference letter and they use it anywhere unless they are asked to write one specifically for a position.
While writing the reference letter for the character, you need to write your relationship with the person you are referring to. The recipient of the letter may be interested in knowing how you know that person.
The document should be written in a positive tone so that the person to be referred can get the maximum benefits out of it. It should also be kept in mind that lying while writing a reference letter on the character is not recommended. Write down those details in the letter that are constructive for the company as well as for the person to be referred.
Sample Letters
#1
It is an honor for me to write a character reference for my dear colleague Michael. We have been working together in ABC firm for the past five years. He is an embodiment of hard work and I always found him true to his work. He possesses kind nature and a loving personality that makes him the apple of everyone's eye. He behaves professionally in the office and never indulges himself in useless activities.
He always makes the best use of his time and I got a lot of benefits from his unique ideas. He behaves calmly in difficult circumstances and does not create panic. He always remains ready to help others no matter how much busy he is. He is a perfectly fit for the job you are offering in your institute. He has set high aims for his future and I hope he will prove a great asset to your organization.
#2
I am feeling privileged in writing this reference message for Steward. He joined ABC Organization three years ago and I always found him cooperative. He has a good understanding of accounting and he always assisted me in group assignments. He is an intelligent and principled person who is equipped with all positive traits. He knows well how to remain calm during extreme pressure.
You will never find him lagging behind in project completion. He treats all his colleagues equally and always extends his help whenever needed. For more information, I can be contacted through email. Thank you.
#3
I am David Morph and writing this character reference for my colleague Sidney Smith. We both have worked together at ABC Corporation and he was a project manager there. He is an exuberant and skilled project manager and has wide experience in relevant fields. He has high ideals and possesses kind nature that distinguishes him from others easily.
I always found him punctual and professional. He always guided me with his thoughtful insight. He is a hard-working and enthusiastic champ who always utilizes his time in the best way. He deals with customers in a good manner and listens to their queries calmly. For your organization, he will prove a good addition.
#4
Christopher is my dearest colleague and I know him for more than a decade. We joined XYZ Corporation together on [mention date] and developed a strong bond. He is a skilled and resilient person who always behaves well. He deliberates things in an elucidative manner and his generous nature. He is a punctual and man of principles who strives hard to accomplish his goals. I have found him courteous, dedicated, and resolute.
Many times it happened that we were short of time for project completion but he made extra efforts to accomplish it. He is everyone's favorite and I believe that he will do wonders wherever he will go. The qualities you have mentioned for recruiting area manager he possesses all. I highly recommend him for this post and it would be a good decision taken so far.
Letter:
I'm feeling honored for writing a reference letter for Mr. Jones who has worked for our company as a business relation officer. As a direct supervisor, I verify that he is indeed a very hardworking and honest person.
He is known for his kind and helpful attitude towards his clients and co-workers. He is the best source of encouragement to his fellow workers.
I believe that Mr. Jones is a very compassionate person on both professional and personal levels. You can contact me anytime if you need to speak to me.
Preview and Details of Template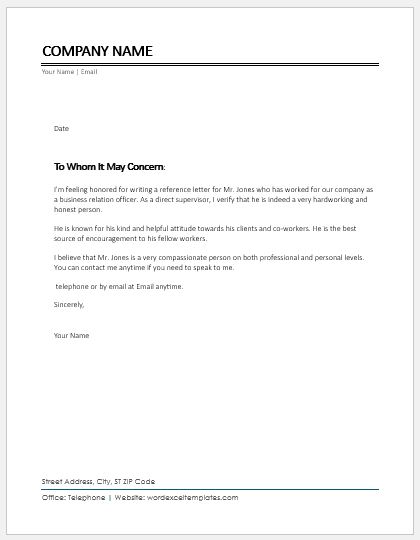 File: Word (.docx) 2007+ and iPad 
Size 29 Kb