A character reference letter is written when you want to refer your coworker for a job. In other words, this letter is written to recommend someone.
What is the purpose of character reference letter?
The main purpose of writing this letter is recommending someone. Other purposes are court appearances, a statement about the personal character of the co-worker and a lot more.
It can be very difficult for you to write the reference letter if you are writing it for the first time. However, once you have evaluated the reason for writing the reference letter, you can easily put your thoughts on the piece of paper and organize them in the form of character reference letter.
You may be approached by your coworker who wants you to write a letter of recommendation for him. People who are frequently approached for writing reference letter write a general reference letter and they use it anywhere unless they are asked to write one specifically for a position.
While writing the reference letter for the character, it is important for you to write your relationship with the person you are referring. The recipient of the letter may be interested in knowing how you know that person.
The document should be written in a positive tone so that the person to be referred can get the maximum benefits out of it. It should also be kept in mind that lying while writing a reference letter on the character is not recommended. Write down those details in the letter that are constructive for the company as well as for the person to be referred.
Letter:
I'm feeling honored for writing a reference letter for Mr. Jones who has worked for our company as a business relation officer. As a direct supervisor, I verify that he is indeed a very hardworking and honest person.
He is known for his kind and helpful attitude towards his clients and co-workers. He is the best source of encouragement to his fellow workers.
I believe that Mr. Jones is a very compassionate person on both professional and personal levels. You can contact me anytime if you need to speak to me.
Preview and Details of Template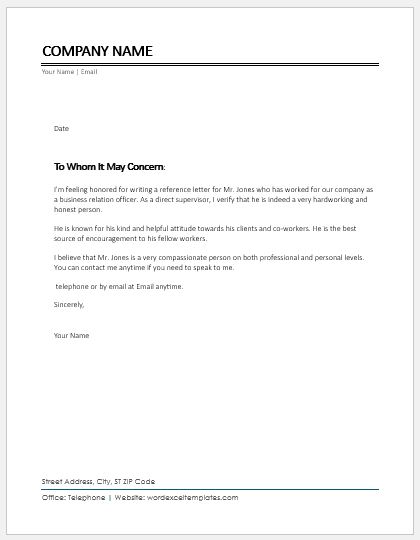 Character Reference Letter for Coworker
File: Word (.docx) 2007+ and iPad 
Size 29 Kb   | Download
[Personal Use Only]