Not all employees are potential as well as suitable at the same time. Some people just don't suit your business. Even if they're honest, they might not be skillful enough. At other times, you accidentally hire some professional, skilled but totally dishonest people.
In both conditions, you have no choice but to say goodbye to such employees if you really are concerned about your business. Since businesses require everything professional, they also require professional wrath from you.
The process of dismissal is tricky. With a bad ''goodbye'', you can invite rivalry from your ex-employee who might know the business secrets, can get entangled in court matters or at the least can create a bad impression of yours. So when you plan to dismiss an employee make sure you remain polite, logical, and professional.
Writing dismissal letters is a decent way to inform your employee that it is his time to move from your office somewhere else. These letters are not only to inform the employee about the termination of his job but also to explain to him why he is being splashed out of the boat so that he may not elongate the process of termination by asking for reasons for dismissal.
As mentioned earlier, not all employees are dismissed for the same reasons. While some are dismissed for violating rules or showing dishonest behavior, others may be dismissed for not being able to fulfill the business requirements. They are honest people but they lack the required skills. For such employees, it is good to attach a character reference letter with a dismissal letter so that they may easily get another job that may suit their skills.
You can find a sample of a dismissal letter here. Since dismissal letters are to save your business, make sure you don't sink it by unprofessionally dismissing your employees or business partners.
Preview and Details of Template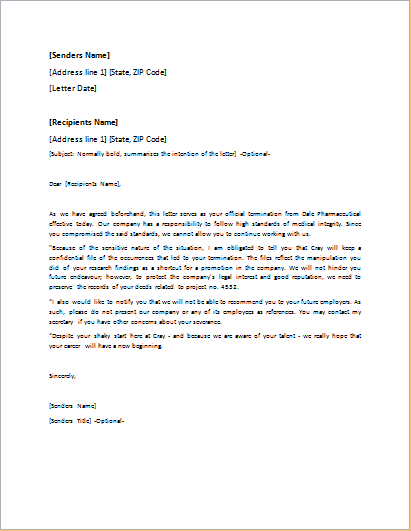 License: ENERGY  (General Use)
(Distribution) by Kate Elizabeth(CEO)
File: Word (.docx) 2007+ and iPad
Size 28 Kb |
Download
---
---
Dismissal letter for misconduct
Dear [Name of Employee],
This letter is being sent to you as an immediate dismissal from your position. We have received many complaints regarding your misbehavior with the staff members. Even though we have issued you warning letters, there has been no change in your behavior. Any misconduct shown at work goes against the regulations of the company.
Therefore, the company has decided on your dismissal. You may pack your belongings in the next 24 hours and leave the building. You will be allowed to clear your dues until the end of this month, [Date]. Thank you for working with us.
Dismissal letter for theft
Dear [Name of Employee],
It is with regret that we inform you of your immediate dismissal from our company. As you are aware, investigations were being performed around the office regarding the theft issue.
During the investigations, video recordings from the CCTV's around the office were reviewed. Unfortunately, you were seen on the footage performing the theft. The company set up a committee for this issue and your actions were discussed. The company has decided to terminate your contract, effective immediately.
Your last workday at the company is [Date]. Please remove your belongings from the company building in the next 24 hours. Display of resistance will result in the security escorting you out of the company.
We thank you for your work and wish we had parted in a better situation.
Dismissal letter for absenteeism
Dear [Name of Employee],
We sadly inform you that due to your excessive absenteeism, the company has decided for your dismissal from your current position in the office. Your work performance has been greatly affected as you have not been coming to work in the past few weeks. Due to your absence colleagues have been burdened with your duties which is unfair to them. Your negligence in regard to office work can result in issues for the company.
You will be allowed time, till [Date], during which you can clear off any pending dues with the company. Thank you for your time. It was a pleasure working with you.
Dismissal letter for bad behavior
Dear [Name of Employee],
A committee was created by the company to discuss your behavioral issues. We have come to the decision that you are being dismissed for the display of inappropriate behavior with your fellow colleagues, during work hours. The company has set rules and regulations that the employees are advised to follow. Failure to do so can result in warning letters and dismissals.
You have already been issued warning letters. However, the company has not seen any changes in your workplace behavior. Therefore, your contract is being terminated. [Date] will be considered your last day at work. Before this date, you are allowed to clear off any dues with the company. Displaying bad behavior during this time will result in immediate dismissal. You will be escorted out by the security and your belongings will be packed for you.
We wish your contract did not end this way. Thank you for working with us.