One of the ways in which nature tests are annoying tenants. O yeah! I am serious. If you ever had an encounter with teasing tenants you can understand why I call it nature's test.
Since you rent your property or land with the objective to generate some income, there come times when renting your property starts affecting you inversely. This happens when your tenants delay paying rent, violate contract rules, or misuse your property. In all such cases, you should think about writing an eviction letter to them.
Eviction letters are used to notify tenants to evacuate their places until the given date. These letters are legal letters and in case the tenant refuses to take your letter seriously, you can file a petition to seek legal help.
Since eviction letters are legal letters, they should be written in business letter format. It is recommended to write your letter as professionally as you can. Here are some tips to follow while writing eviction letters.
Do not send eviction letters by email. Either give the letter by hand, or by post.
Keep a duplicate letter with you
Explain to your tenant why you want to kick him out. Your tenant might accidentally be a good person and may think to correct his mistake.
Do not try to threaten your tenant. This can be costly for you if the matter is raised in court.
Mention the deadlines and eviction dates properly.
Professionally and decently written eviction letters usually reap good results. It is in the favor of your tenant as well as you do not lose the grip on ethics.
If you're looking forward to getting rid of an annoying tenant using an eviction letter, we're helping you here with our samples.
Sample
Re. Eviction Notice to Mr. [Name] w.r.t the Lease Agreement on Rental Unit No. (X)
Dear Mr. [Name],
This letter serves as a notification to vacate the rental building. According to the Lease Agreement signed between you and [Name the landlord], it is hereby notified that you should leave the house before [date]. According to the Federal Unit's Lease and Rent Agreement and Bylaws, the letter asks for eviction within five working days.
The eviction takes place mainly due to two reasons. One is the expiry of the lease agreement signed at the time of the contract. The other is of violation of the rules mentioned in the lease agreement. According to the statement of your landlord, you have violated several conditions mentioned in the contract and the lease agreement.
Late-night partying and loud music frequently is prohibited in the lease agreement, which was practiced many times. Such violations violate the rules of the lease agreement and are also against the rules prescribed by the town's Houseowner Association (HOA).
More importance should have been paid to the prescribed conditions of the lease agreement. Due to the violation, your landlord does not agree to extend the agreement and wants you to vacate his property within five business days. In case of non-compliance, local law enforcement shall take legal action against you.
According to state laws, this eviction notice keeps a legal position. Therefore, non-compliance with this notice shall result in legal action. According to the agreement, the property belongs to Mr. [name], the place's owner [mention exact address of the place].
In case of any queries, call your management company, which oversees your matters related to the lease and rent. Thank you.
Regards
[Name]
[Position]
[Sending Agency]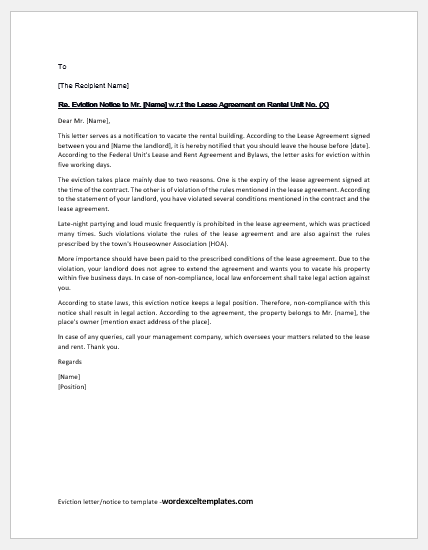 Eviction Letter/notice to Tenant
Sample #2
You have been my tenant for the past 3 years. It is now time that you must vacate the apartment as per the expiration of the lease period. I no longer wish to renew the lease agreement as I would need the apartment for my son's marriage which is after two months. For this reason, I am serving you with prior notice of two months so that you may be able to find a suitable place for yourself.
Sample #3
You have been a tenant to me for the past 5 years. The lease agreement was renewed each time the expiration date approached. But this time, I am afraid that this will not be possible. You need to vacate the apartment upon the expiration period as I wish to sell the apartment. It would no longer be available for tenancy.
I am serving this notice to you well before time so that you may look for other available apartments for tenancy.
Sample #4
You have been in possession of my house for 8 years. This time I am afraid I won't be able to renew the lease agreement, unlike in previous years. I intend to have accommodation at my apartment in the future. For this reason, I am serving you this notice to vacate the apartment before the lease expiration date.
We need to meet up to settle any dues remaining before vacating the apartment.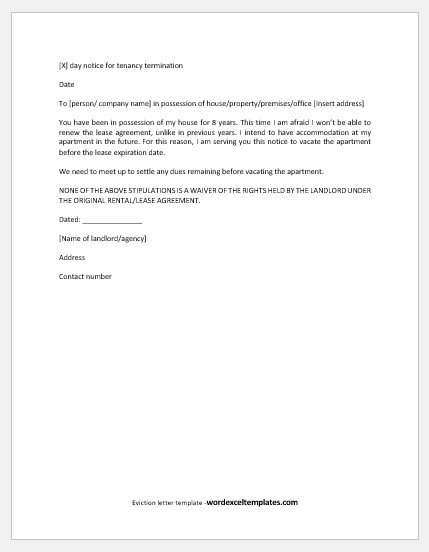 More letter samples…