Directive letters are written to issue directions to people who are working in your supervision. Any change in the procedure done by the company should be told to employees. The change in procedure is required to be followed and accepted by every employee in the company.
Moreover, if there is any action that the management of the company wants the employees to take, it is specified in the form of instructions in the directive letter.
Tips for writing a directive letter:
Since the main purpose of writing the directive letter is to give instructions to the recipient, the instructions should be given very clearly so that the misunderstanding can be avoided.
Your expectations from the employee regarding the actions to be taken on changed procedures should be clearly stated in the letter.
Mention the deadline of the task in which the recipient is required to complete the task.
The results of completing following all the directions should be mentioned in the letter. This will motivate the employee.
The reader should be told that your expectations for him are very high. You should tell the employee that you expect to get perfect and flawless work from him.
Offer the recipient additional help to the employee in following the directions given in the directive letter.
If there is any person in the company that can help the employee in following those directions, his name and contact details should be mentioned.
Add the directions in the letter with bullet points so that additional details other than instructions can be distinguished.
The template for a directive letter to employee for change in procedure can be downloaded from this website if you want to save your time. This template has been designed for all those people who need a professionally crafted directive letter.
The template is readymade that requires little or no editing. A user has to input the details in it to make it suitable for his personal use and then he can send it to his employees.
Sample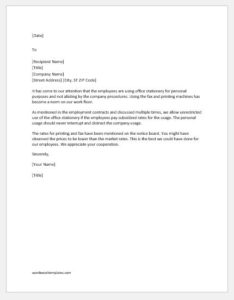 It has come to our attention that the employees are using office stationery for personal purposes and not abiding by the company procedures. Using the fax and printing machines has become a norm on our work floor.
As mentioned in the employment contracts and discussed multiple times, we allow unrestricted use of the office stationery if the employees pay subsidized rates for the usage. The personal usage should never interrupt and distract the company usage.
The rates for printing and fax have been mentioned on the notice board. You might have observed the prices to be lower than the market rates. This is the best we could have done for our employees. We appreciate your cooperation.