Interviews and appointments hold a significant place in the professional world. They need to be dealt with appropriately and professionally. Scheduling an interview is quite a complex task. The employer must keep in view all the situations that can occur before making a schedule of interviews as to avoid any hindrances.
A variety of situations can lead to the cancellation of an already scheduled interview. These situations can be from both the applicant and the employer. These situations are:
From the employer's side:
When a better candidate is found after sending the interview schedule to present applicant.
When the company's policy changes regarding hiring.
When the employer suffers from some calamity and is unable to come.
From the applicant's side:
When the applicant gets a better job offer than the present one.
When the applicant finds some bad reputation issue about the company.
When some emergency occurs, and the applicant is unable to attend.
In all these situations a letter to cancel the scheduled interview is sent. The tone of this letter must be very polite. The letter should also be requesting rather than ordering. The letter should also contain a good note by showing interest in meeting in the future. The letter should also be sent beforehand. In case of rescheduling, the new period must be made without further hindrances. Above all, a cancellation letter must always be written in all cases; otherwise, it creates a very bad impression from both ends.
Sample Letters
#1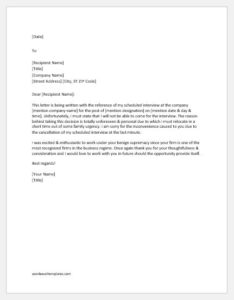 This letter is being written with the reference of my scheduled interview at the company [mention company name] for the post of [mention designation] on [mention date & day & time]. Unfortunately, I must state that I will not be able to come for the interview. The reason behind taking this decision is totally unforeseen & personal due to which I must relocate in a short time out of some family urgency. I am sorry for the inconvenience caused to you due to the cancellation of my scheduled interview at the last minute.
I was excited & enthusiastic to work under your benign supremacy since your firm is one of the most recognized firms in the business regime. Once again thank you for your thoughtfulness & consideration and I would love to work with you in future should the opportunity provide itself.
Best regards!
#2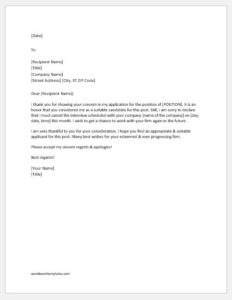 I thank you for showing your concern in my application for the position of [POSITION]. It is an honor that you considered me as a suitable candidate for this post. Still, I am sorry to declare that I must cancel the interview scheduled with your company [name of the company] on [day, date, time] this month. I wish to get a chance to work with your firm again in the future.
I am very thankful to you for your consideration. I hope you find an appropriate & suitable applicant for this post. Many best wishes for your esteemed & ever progressing firm.
Please accept my sincere regrets & apologies!
Best regards!