What is customer comments card?
It is a business card which is used by most of the businesses in order to allow the customers to express their opinion about the business and give the feedback on the experience they had with you.
The main purpose of using this comments card is to evaluate the customer satisfaction about the business.
It also enables the retailer to know about those areas of the business in which he needs improvement. The use of customer comment card also makes your customer realize that you are listening to their opinions and value their insight into your business.
It is regarded as a very important tool that lets you communicate with your customers. It is a great way for all those businesses that want to collect testimonials about the business. These testimonials can then be used for advertising and marketing of the business.
There are many techniques that you can use to make your customer fill out the comment card. Apart from appreciation, the incentive can also be offered on filling the comment card.
The incentive may be a small discount on the future purchase or a free small item with the purchase.
The comments cards are not used by the customers to appreciate the business. Sometimes, these cards also become a big source of receiving complaints from the customers. The use of comment card allows the unhappy customers to share their experience with you instead of sharing it on social media and spreading it out.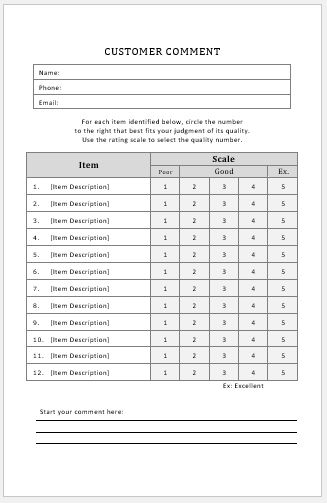 How to create comment card?
The comment cards are prepared on the card paper with the professional printer. The layout and the format of the form should be simple and easy to understand. Most of the customers don't know how to comment. For this, it is better to provide them with several options to choose from.
The comment card should be readily available to customers. If you are running the business online also, then make sure that the web version of comment card is also available. Online survey forms can also be used in place of comment cards.
Preview and Details of Template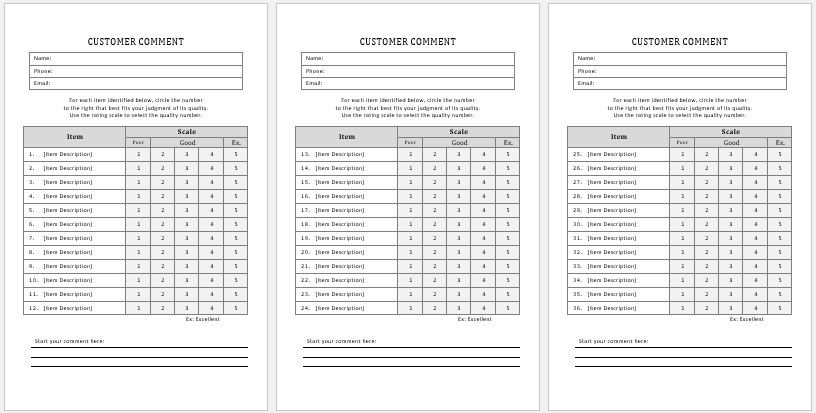 Comment Card Templates
File: Word (.docx) 2007+ and iPad 
Size 55 Kb   | Download
[Personal Use Only]