Invitations can be of different types. Categorically, the business invitations are the most formal ones. They need to be in an exact format covering all the important points.
Additionally, schools also use invitation letters. Invitations from schools can be for the annual sports day, annual talent show, fun gala, book fair, etc. When it comes to the invitation, there is another kind of invitation from the school concerning children's overall conduct on behalf of their studies and progress.
This formal and important invitation is a parent-teacher meeting or parent-teacher conference. It is important for both mother and father to attend a parent-teacher conference. Parents are obliged to know about the conduct of their children.
Some kids are too stubborn and some kids are too touchy. The behavior depends on the home environment. Kids just adapt according to the environment given to them and the behavior of their parents towards them. Likewise, some kids are too cooperative. Altogether, many issues keep on arising in school among students. As well as study behavior is also affected by such things.
See also: Parent feedback forms
The matters of students are always crucial. So parent-teacher conferences provide ease to both parents and teachers on how to cope with the child. Some things are unknown to the teacher regarding her class students. This is an easy way to inform about concerning situations affecting a child's behavior. Additionally, parents always have a lot of queries from the teacher regarding their kids. All such situations are being compiled in the form of a conference.
This invitation is usually sent through the students themselves. Enclosed in proper envelopes, such invitations include a warm note to parents. They specify the date of PTM, the timings, and the respective venue.
See also: Parent-teacher conference feedback form
Letter Sample

s
#1
Dear parents, We are writing this to inform you that on [mention date], our school is conducting a parent-teacher conference. This has been set up to discuss your child's performance in class throughout the year. It is an obligatory duty to let parents know about their children, and it also maintains a healthy relationship between parents and teachers. We would be glad to have your presence at the conference.
The meeting date is [mention date], and it will start at 10 a.m. You will be served complimentary tea and snacks. For more details, you can visit our official website. Thank you. 
#2
I am Eliza Swart, coordinator of ABC School, and I am proposing this letter to have your presence at the upcoming parents' and teachers' conferences. This is held every four months and keeps you updated about your child's overall class performance. The meetings play a considerate role in developing a healthy bond between parents and teachers.
Moreover, the one-on-one discussion provides more room for the solution of the problems. For your son's future, this conference is of vital importance. Therefore, I request that you not ignore this message and attend a meet-up with teachers. Kindly send a query email in response to this message with your concerns. 
#3
I am letting you know that ABC School is conducting a parent-teacher conference on [mention date]. The conference will start at 11 a.m. in Greenwich Campus's main hall. Our entire teaching staff will be there to assist you. I have attached a note with this letter containing minute details of the conference. You will not face any difficulty reaching the conference hall. I request that you please follow the meeting schedule and leave us a confirmation note about this message. Our admin office remains open for all kinds of queries, you can contact them if you have any. 
#4
Dear parents, This letter has been sent to invite you to a parent-teacher conference held on [mention date]. As the third semester has ended, we want to have elaborate discussions about your child's future. You will get an insight into the obstacles your child is facing in their studies. We will give you a monthly evaluation report for your child. Any queries in this regard are welcome. The participation of both parents and children is compulsory. 
#5
On behalf of the ABC School administration, I am cordially inviting you to attend a conference that will be on [mention date]. The conference timings are from 10 a.m to 3 p.m. You will have the opportunity to meet all teachers in person and can talk about your child's performance.
You are welcome to discuss anything regarding your child and our staff will thoroughly assist you. We will listen to all of your queries and will devise a possible solution. Please do not ignore this message as you must have to attend the conference.
#6
Dear Mr. /Ms. [NAME HERE],
Thank you for all your cooperation, acknowledgment, and patience. On behalf of [school name], a parent-teacher conference is going to be held on [date/month/year]. This is an annual parent-teacher conference.
I [name here], principal/supervisor of [school name], wholeheartedly invite you to attend the parent-teacher conference. The presence of both mother and father is strictly advised.
Regards,
Principal/supervisor signature
See also: parent consent forms
Preview and Details of Template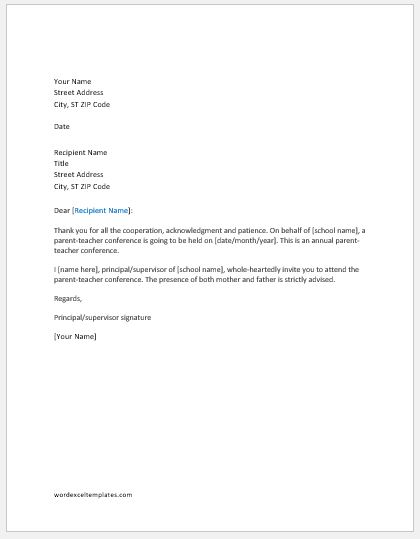 File: Word (.docx) 2007+ and iPad 
Size 15 Kb