Invitations can be of different types. Categorically, the business invitations are the most formal ones. They need to be in exact format covering all the important points.
Additionally, schools also use invitation letters. Invitation from schools can be for the annual sports day, annual talent show, fun gala, book fair etc. When it comes to the invitation, there is another kind of invitation from the school concerning children's overall conduct on behalf of his studies and progress.
This formal and important invitation is a parent-teacher meeting or parent-teacher conference. It is important for both mother and father to attend a parent-teacher conference. Parents are obliged to know about the conduct of their children.
Some kids are too stubborn and some kids are too touchy. The behavior depends on the home environment. Kids just adapt according to the environment given to them and the behavior of their parents towards them. Likewise, some kids are too cooperative. Altogether, many issues keep on arising in school among students. As well as, study behavior is also affected by such things.
See also: Parent feedback forms
The matters of students are always crucial. So parent-teacher conferences provide ease to both parents and teachers on how to cope with the child. Some things are unknown to the teacher regarding her class students. This is an easy way to inform about concerning situations affecting a child's behavior. Additionally, parents always have a lot of queries from the teacher regarding their kid. All such situations are being compiled in the form of a conference.
This invitation is usually sent through the students themselves. Enclosed in proper envelopes, such invitations include a warm note to parents. They specify the date of PTM, the timings, and respective venue.
See also: Parent-teacher conference feedback form
Letter Sample
Dear Mr. /Ms.  [NAME HERE],
Thank you for all the cooperation, acknowledgment and patience. On behalf of [school name], a parent-teacher conference is going to be held on [date/month/year]. This is an annual parent-teacher conference.
I [name here], principal/supervisor of [school name], whole-heartedly invite you to attend the parent-teacher conference. The presence of both mother and father is strictly advised.
Regards,
Principal/supervisor signature
See also: parent consent forms
Preview and Details of Template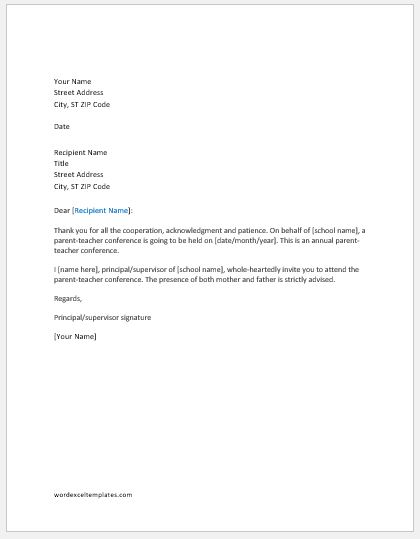 Letter Template
File: Word (.docx) 2007+ and iPad 
Size 15 Kb   | Download
[Personal Use Only]