Words have their own effect. Your kind words can make an individual strong; strong enough to handle a tough situation or to uplift the low spirit. In a working environment, we are expected to show kind and gentle behavior towards others. If we find someone in trouble or in any difficult situation we must help him/her to the best we can.
Letters and notes are written as an official way to show your concerns. One such letter is sympathy letter to a coworker for the sad demise of his/her relative. This sympathy letter is used to show your concerns for the sad demise of the relative of your coworker.
Find the following readymade letter sample template to help you draft your document in the circumstances.
See also: Apology letter for not attending funeral
Sample Letter
Dear Ms./Mr. [Name Here], I was quite disconsolate on not hearing from you for three days but it was inconsolable to learn the fact that [Relative/Other] has passed away. I know it is a great loss for you but everyone must go beyond the veil as it is the basic truth of life, the one who is born must die. That's the rule of nature.
When I first met your [Name Here], it was a pretty delightful experience to meet a person with a great personality and novelty. He/she was a kind of person one awaits to meet again. It would be quite laborious for you to forget a dear and noble human being one finds rarely. But I guess we were all blessed to have him/her due to the personality filled with kindness and love.
A person who managed to smile every time what so ever the situation is and of course it reminds of the sense of good humor he/she had. I know it will be hard for you to get over this huge loss but as he/she always wanted to see you strong so need to stay strong and blessed.
You need to try smiling again like him/her so that his/her soul may rest in peace. Try carrying out the good work he/she was up and catch up with her few loans she took for the charity purposes. Be strong and smile again for him/her as he would never like to see you in such a distress. Stay blessed and take care!
See also: Apology letter for not attending funeral
Preview and Details of Template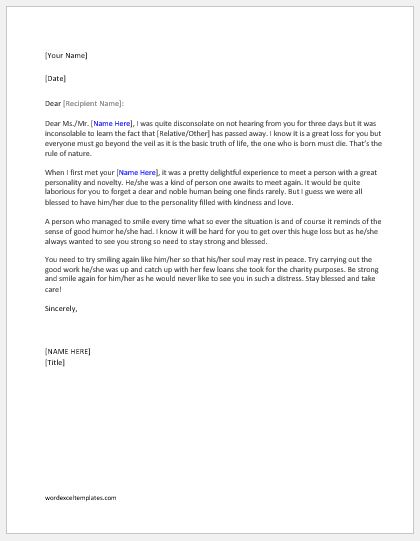 Letter Template
File: Word (.docx) 2007+ and iPad 
Size 15 Kb   | Download
[Personal Use Only]