Words have their own effect. Your kind words can make an individual strong; strong enough to handle a tough situation or to uplift the low spirit. In a working environment, we are expected to show kind and gentle behavior towards others. If we find someone in trouble or in any difficult situation we must help him/her to the best we can.
Letters and notes are written as an official way to show your concerns. One such letter is a sympathy letter to a coworker for the sad demise of his/her relative. This sympathy letter is used to show your concern for the sad demise of the relative of your coworker.
Find the following readymade letter sample template to help you draft your document in the circumstances.
Sample Letter
Dear Ms./Mr. [Name Here], I was quite disconsolate on not hearing from you for three days but it was inconsolable to learn the fact that [Relative/Other] has passed away. I know it is a great loss for you but everyone must go beyond the veil as it is the basic truth of life, the one who is born must die. That's the rule of nature.
When I first met your [Name Here], it was a pretty delightful experience to meet a person with a great personality and novelty. He/she was the kind of person one awaits to meet again. It would be quite laborious for you to forget a dear and noble human being one finds rarely. But I guess we were all blessed to have him/her due to the personality filled with kindness and love.
A person who managed to smile every time what so ever the situation is and of course it reminds me of the sense of good humor he/she had. I know it will be hard for you to get over this huge loss but as he/she always wanted to see you strong so need to stay strong and blessed.
You need to try smiling again like him/her so that his/her soul may rest in peace. Try carrying out the good work he/she was up to and catch up with the few loans she took for charity purposes. Be strong and smile again for him/her as he would never like to see you in such distress. Stay blessed and take care!
See also: Apology letter for not attending funeral
Preview and Details of Template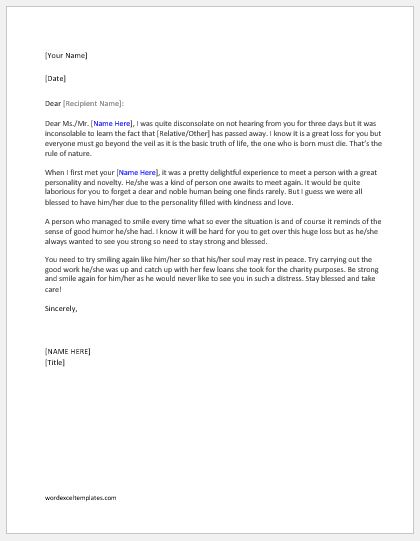 File: Word (.docx) 2007+ and iPad 
Size 15 Kb
More samples
#1
Dear George, I am deeply saddened by your father's sudden demise. He was a man of great values and of generous nature. Words are not enough to lessen your grief but I pray that you find solace with my comforting words. You are passing through a very tough time in your life and I am here for you always. You will find me your true confidant and please let me know if you need any kind of help.
#2
Brother and sister share a great bond and it gets stronger with each passing moment. I am very sorry for your sister's loss as she was my classmate too. I always found her vigilant and resilient. She possessed a humble and incredible personality. I can imagine your pain as I also went through the same last year. Her individuality made her distinguished amongst others and she was a finesse to follow. I pay my deepest condolence to you at this hour and I pray that you may find comfort.
#3
My dear Robert, I am truly saddened after listening to the news of your father's death. He was not only my friend but also my big brother. I lost a great companion in his form. He was my ideal and I always looked for him in time of need. We had long gossip sessions on the weekends and used to share everything with each other. The words are not accompanying me as I am in utmost grief.
I can understand the intensity of your pain as you have lost your greatest supporter. In his life, he tried his best to provide you with a comfortable life which he was deprived of in childhood. Like your father, I will always extend my full support to you and you do need to feel alone. Hope you find my words comforting.
#4
With this message, I present you my warm sympathies over your husband's death. He had all the qualities of a good human being and I always found him helping others. He was the best gift ever to me and I always found him a true guide. I loved him due to his unique nature and creativity. He always motivated me to pursue my dreams.
I felt a spirit of spirituality when he was around me. He was heavenly and left this world too soon. The company will never find another enthusiastic employee like him. He will always remain in my heart with his everlasting memories. I am with you at this difficult time and you can ask me for help anytime.
#5
I pay my condolence to you for your mother's sudden death. This is a heartrending phase you are passing through and no amount of words can lessen your grief. With time, you will overcome the grief. I am always here to assist you and I will handle your work affairs till you join us again. The only thing that now matters is your stability and peace of mind. There is no hurry to think about the office work. Your family needs you and you have to be strong.