Marketing is the key factor for the promotion of a product. Different companies adopt a variety of methods to do marketing for the promotion. One of such methods is to write new product launch announcement letter to its old customers.
Companies keep a record of their customers through various ways including email record of the customers. They use this information to keep in touch with them in the time of need. When a company launches a new product, it wants to spread the message to its customers. Having customer record helps them send the new announcements or promotions.
Following is given a letter that can be used by the companies who are looking to draft an email/letter to send to their customers. It is a readymade letter template and you can use with little modification.
See also: Holiday announcement email to customers
Sample Letter
Dear [Customer Name],
We present another new product of ours with a great pleasure and satisfaction. Our wonderful [Product Name] is based on your exclusive everyday necessities and we claim our product to be time-saving and extremely useful. We understand our customer's requirement and keep in perception their exhilaration and relish while designing our brand-new products.
Our proudly presented product [Name here] is based on up to the minute technology and information. It provides you with a comfort you haven't experienced before; we guarantee.
See also: Holiday closing announcement letters
The specification of the product meets your daily precondition as without our product you might waste your precious time in rambling around those products which can cause a high cost, high loss situation. With a double edge dual door and instant cooling mechanism, you can avoid rotten stuff you were anxious about.
It's a high voltage working product yet with a better stabilizer it will not cost you an extravagant bill which is out of hands. What makes it unique is the recording and transmitting system, you can call for what you need from inside of it from the things you put it, with its magnetic resonated wheels it will come to you by its self to provide you with your requirement and due to the ultimate stabilizer, its gets off when reaches a certain temperature to save electricity bills for you. Voila!
See also: Office closed for holidays email/letters
Lastly, we invite you to the inauguration ceremony of our Product launch. We hope that we will be able to great you at the ceremony and will be able to satisfy you and fulfill your dire necessities.
We are sending you our brochure along with this letter to confirm your cordial presence.
Hope to see you at our product launch and an exclusive give away ceremony afterward for our respected customers like you. Looking forward to your presence. thankyou!
Preview and Details of Template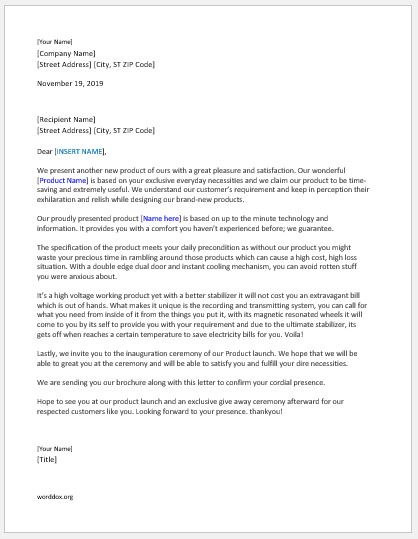 Product Launch Announcement Letter Template
File: Word (.doc) 2007+ and iPad 
Size 28 Kb   | Download
[Personal Use Only]