Marketing is the key factor for the promotion of a product. Different companies adopt a variety of methods to do marketing for promotion. One such method is to write a new product launch announcement letter to its old customers.
Companies keep a record of their customers through various ways including email of the customers. They use this information to keep in touch with them in their time of need. When a company launches a new product, it wants to spread the message to its customers. Having customer records helps them send new announcements or promotions.
Following is given a letter that can be used by companies who are looking to draft an email/letter to send to their customers. It is a readymade letter template and you can use it with little modification.
See also: Holiday announcement email to customers
Sample Letter

Statements
#1
Dear customers, we are indebted to you for always trusting our products and making them a part of your daily life. This means a lot to us and after gaining energy from your positive feedback we strive for more. Your continuous support has made us able to realize our dream. We were getting a lot of requests about launching new products. This message is to announce to you officially that we are back with our new air conditioners that are imbued with extraordinary qualities. The product will officially be launched on [mention date] and there would be amazing discounts for you.
#2
You all will be delighted to know that on your countless demands, we are launching our new skin product. This will revolutionize all the skincare brands and will do magic on the skin. Our new Vitamin C Retinol serum will help you in reducing skin aging and will minimize maximum pores. You can get it from our outlet in New Jersey and an online facility is also available. You will learn to know the method of its application with the help of the literature attached to the bottle. We are hopeful that all your skincare problems will be solved with this one product.
#3
This is to bring to your notice that the New Heaven band is launching its summer outfits. You can get them from all our outlets. This is the highly demanding product you all were making requests of. The material that is used in it is of the best quality. Our designer's team has prepared all the dresses with a lot of love and attention. The detailing is very nice and the color combinations are heavenly. We always prioritize our customers' demands and try to meet their expectations. We have gained this success with your trust and affection. We promise to keep your life comforted with our luxury products.
#4
Dear clients, please highlight [mention date] in your calendars as we launch our highly demanding travel slippers. There are made of very soft material with a lifetime guarantee. For diabetic patients, these are highly recommended. They are waterproof and will be available at a reasonable rate. We understand that everyone wants comfortable shoes while traveling, so we have realized your dream. They have been designed with beautiful floral patterns and are best for all age groups. You will love wearing them during travel. We have started taking pre-orders and from [mention date] these will be available in our main outlet.
#5
Finally, the wait is over. Our skincare brand has launched some beautiful products for its customers. These include lipsticks, sunscreen, and lip balm with an amazing variety of colors and smooth textures. Before launching them officially, we have tested them on our staff and the results are extraordinary. Our lip balm is the best for dry lips and maintains the natural softness of the lips. Our sunscreen has been manufactured using botanical products. These products are non-allergic and easy to use. For more queries, you can visit our website and you will get all your answers there.
#5
Dear [Customer Name],
We present another new product of ours with great pleasure and satisfaction. Our wonderful [Product Name] is based on your exclusive everyday necessities and we claim our product to be time-saving and extremely useful. We understand our customer's requirements and keep in perception their exhilaration and relish while designing our brand-new products.
Ours proudly presented product [Name here] is based on up-to-the-minute technology and information. It provides you with a comfort you haven't experienced before; we guarantee.
The specification of the product meets your daily precondition as without our product you might waste your precious time in rambling around those products which can cause a high cost, high loss situation. With a double edge dual door and instant cooling mechanism, you can avoid rotten stuff you were anxious about.
It's a high-voltage working product yet with a better stabilizer it will not cost you an extravagant bill that is out of hands. What makes it unique is the recording and transmitting system, you can call for what you need from inside of it from the things you put it, with its magnetic resonated wheels it will come to you by itself to provide you with your requirement and due to the ultimate stabilizer, it gets off when reaches a certain temperature to save electricity bills for you. Voila!
Lastly, we invite you to the inauguration ceremony of our Product launch. We hope that we will be able to greet you at the ceremony and will be able to satisfy you and fulfill your dire necessities.
We are sending you our brochure along with this letter to confirm your cordial presence.
Hope to see you at our product launch and an exclusive giveaway ceremony afterward for our respected customers like you. Looking forward to your presence. thankyou!
Preview and Details of Template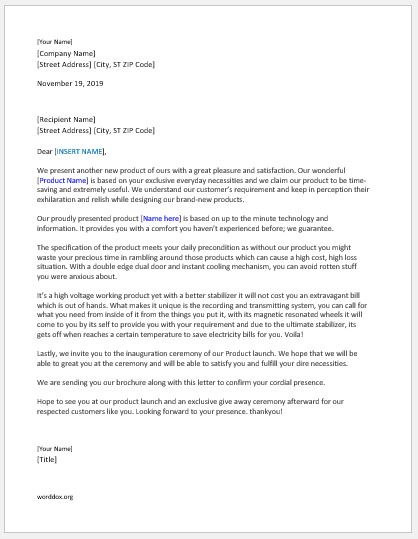 File: Word (.doc) 2007+ and iPad 
Size 28 Kb