Holiday buzz is all around. Everyone is busy with shopping and booking their favorite destinations. Businesses related to holiday stuff is doing well. While the other is facing annual depreciation due to the festive season.
Companies are announcing holidays to their employees. Different companies adopt the different method to inform the employees and customers about the closure of offices for some or all type of dealings. It is a good way to keep informed your customers about the closure so that they can make suitable arrangements well before time. It helps them finalizing all businesses dealings and complete them within due date.
Usually, companies type in their own text to draft the holiday announcement to their customers. But, some people take help from the internet for pre-drafted templates on the subject.
If you are looking for some readymade template for holiday announcement to your customers then you will be happy to be here as our expert, Aieda Navd is good to write on the subject.
Following is a sample holiday announcement email template which is pre-drafted for all those individuals who are looking for the email text.
Sample Email Template
Subject: Announcement of Holidays
Dear customer,
Hope you are doing well and enjoying the holiday season to the fullest. We understand that everyone waits for these days to come so they may get out of the work pressure and spend some quality time with friends and family. We had been waiting for this too. During this closure period, we hope that both, our clients and employees enjoy their time as much as they can.
It is to inform you that we are also taking some days off from our regular schedule and will not be working for [X] days from [DATE] to [DATE] due to the festive season. The first off day will include [start date] and we will be back to work on and included [end date].
Please note that all the queries posted and orders placed at least [X] days before [starting date of holidays] or within the holiday period will be dealing with and/or answered back after we join back.
We sincerely make an apology for the inconvenience it will cause. However, your accepting attitude is greatly valued.
May we meet again in the best of health!
Happy holidays!
Thank you.
Yours Sincerely,
[The Sender's Signature]
Sender's Name
Preview and Details of Template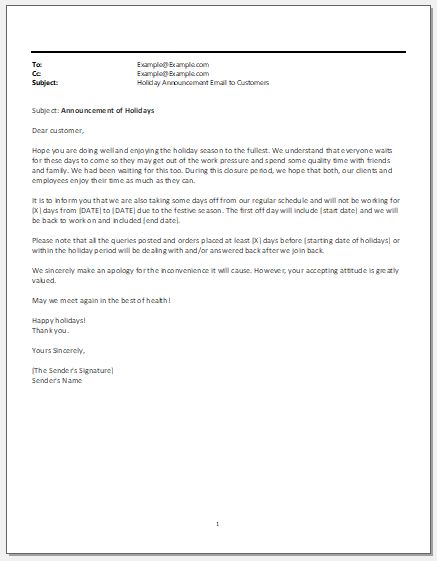 Email Template
File: Email (.msg) 2007+ and iPad 
Size 15 Kb   | Download
[Personal Use Only]
---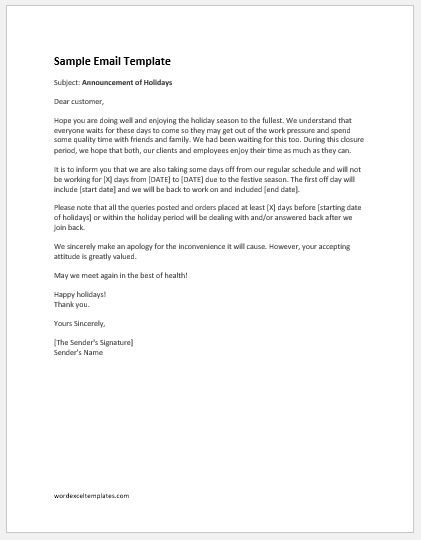 Holiday Announcement Email Template to Customers
File: Word (.doc) 2007+ and iPad 
Size 18 Kb   | Download
[Personal Use Only]