What is dance registration form?
It is a formal document which is used by several dance academies for registering students.
When you are going to be the part of a dance academy, you will be asked to fill this form. The basic objective of using this form is to obtain the information of everyone who wants to get registered to dance academy.
Main elements of dance registration form:
The name of student
Contact details such as phone number email address etc.
Contact details of child's parents.
Medical conditions of the student
Terms and conditions of getting registered to the institute
How to create a dance registration form?
The registration form of dance academy makes everything simple and easier for students and their parents. The form is easy to prepare by considering different details to be included in the form.
The form should include all the necessary information which is needed by the institute's management for registering the student with the basic and important information.
See also: Generic registration forms
The form should be prepared in both hardware and software form so that the parents can get this form when they visit the institute and when they are away. Moreover, the form should also be available to everyone even without internet access.
There are different sections in the form. The first section is based on the information of the student. The information of student's parents should also be provided in the form.
There should be an additional line in the form that should ask the parents where to contact them in case of an emergency.
See also: Event registration forms
The policy acceptance and legal issues related details should also be provided in the form. This section of the form will make the parents aware of all the policies of the institute and they will also be able to know all the risks that are associated with the dancing activities. The payment related details should be clearly stated on the form.
Template:
The offline available template of the form can be easily downloaded from this website. With little customisation, you can make it easily suitable for you.
See also: Student registration forms
Preview and Details of Template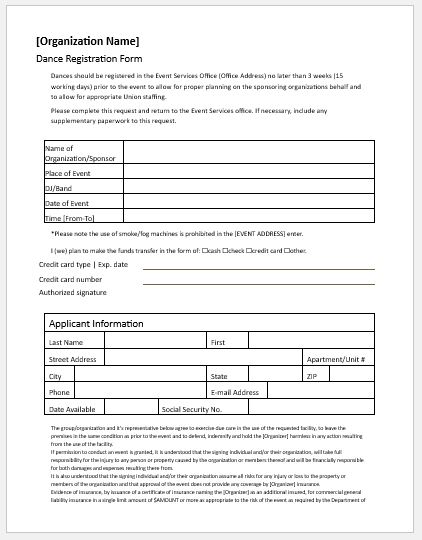 Dance Registration Form Template
File: Word (.doc) 2007+ and iPad 
Size 32 Kb   | Download
[Personal Use Only]