There should be a legitimate excuse for jury duty which is set by the law of the country. Before you write the letter of excuse from jury duty, you should read the notice that you have received from jury service. This notice will provide you with the list of exemptions. The notice can also provide the guidelines following which will enable one to apply for a certain type of exemption.
The federal court provides the exemptions to:
Those who are working in armed forces such as police, army
Those who are working as firefighters
There are different types of exemptions that are provided by the jury courts. The qualification for writing the excuse letter varies from one person to another. Usually, the qualified people for writing this letter are:
People with a certain types of medical issues
Breastfeeding mothers
People who have genuine work-related issues
People with family or financial issues
Writing the jury letter for an excuse is a complex task. The letter is written to the federal courts and it totally depends on the court whether to accept your request for exemption or not. The court usually sends an email to the requestor about the decision it has made.
If you have genuine reasons for an excuse, the court will surely accept your letter. For example, if anyone of your family members is seriously ill and you can prove it through a medical certificate or expense receipt then the court will surely cooperate with you.
No matter what problem you are facing, it is always recommended that you write a jury duty excuse letter with a complete explanation of the hardship that you are facing in your life.
Sample Letters
#1
To whom it may concern
Dear sir,
I, an active member of the jury at Texas State County, have been performing my duties as a working jurist since November 2010 and I take pride in saying I have been a diligent and punctual member of the jury. All the judges and the jury board are quite content with my work values and expect the same in the future from my end. I also intend to exhibit my professional decorum in alignment with their hopes.
I was summoned to carry out my duties next Monday, which is 1st January 20XX, but my vulnerable health condition is compelling me to write this exemption letter adhering to the protocol.
Since my c-section recently, as I delivered my first child, I have been having complications. My doctor has advised me to go on complete bed rest for the next 20 days on account of which I am not committing to any responsibility now.
Henceforth, I request you to kindly give me an exemption from my duty and grant me another date after 20 days in lieu of this. I shall be grateful to you for this act of kindness and vow to show progress in my future obligations.
Sincerely,
#2
To whom it may concern
Dear Sir,
This is Kate Spenser, a jurist at the Orlando County District Court having the honor to serve the court from May 2005 to the current date. I am writing this "jury duty exemption letter" to intimate you with great regret that I will not be able to perform my duty on coming Wednesday dated 00-00-00 from 00:00 am to 00:00 pm as I was summoned on the mentioned time and date.
The reason for this inconvenience is that my children have caught viral influenza which has made their health situation miserable. My husband also cannot get a leave from work because he already has used all his paid leaves. This compels me to put you through this difficulty of exempting me from my next given duty.
Moreover, I would like to take this opportunity to bring another thing to your notice that I will be unavailable from 00-00-0000 to 00-00-0000. My mother is moving from her apartment to a care service and she requires my assistance in the matter.
I assure you I will perform with due diligence and required sincerity on my return to work. You could inquire about my work ethic from my colleagues who would testify to my values as they are a witness to my professionalism.
Please accept my deepest gratitude in advance for allowing me an exemption. I am indeed indebted to your act of great virtue and I shall pay you back soon enough.
Sincerely,
Kate Spenser,
Jury member,
Orlando County District Court
You may like: Tips to write a professional resignation letter
#3
Letter body:
I have been informed that I am required to be present at jury duty on Tuesday 27th November 20XX. I want to serve jury duty at the core of my heart but my life's problems are the biggest obstacles in my way of serving. I have a 4 years old kid suffering from hepatitis. He needs my continuous attention and care.
Please respond to me if you need additional documents in support of my excuse. I would like to thank you in advance. I will be waiting for your response.
See also: Warning letters for various reasons
Preview and Details of Template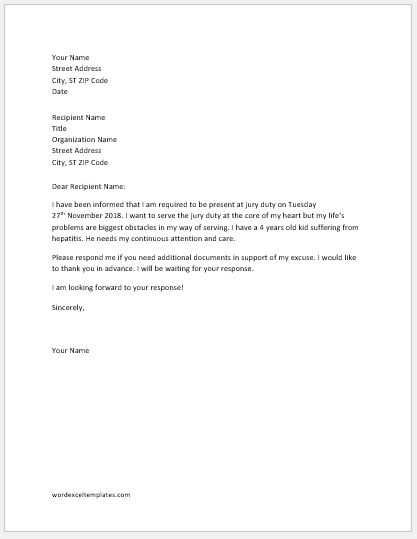 File: Word (.doc) 2007+ and iPad 
Size 35 KB
See also: