There should be a legitimate excuse for the jury duty which is set by the law of the country. Before you write the letter of excuse from jury duty, you should read the notice that you have received from jury service. This notice will provide you with the list of exemptions. The notice can also provide the guidelines following which will enable to apply for the certain type of exemptions.
The federal court provides the exemptions to:
Those who are working in armed forces such as police, army
Those who are working as firefighters
There are different types of exemptions that are provided by the jury courts. The qualification for writing the excuse letter varies from person to other. Usually, the qualified people for writing this letter are:
People with certain type of medical issues
Breastfeeding Mothers
People who have genuine work-related issues
People with family or financial issues
Writing the jury letter for an excuse is a complex task. The letter is written to the federal courts and it totally depends on the court whether to accept your request for exemption or not.  The court usually sends the email to the requestor about the decision it has made.
If you have genuine reasons for an excuse, the court will surely accept your letter. For example, if anyone of your family members is seriously ill and you can prove it through medical certificate or expenses receipt then the court will surely cooperate with you.
No matter what problem you are facing, it is always recommended that you write the jury duty excuse letter with a complete explanation of the hardship that you are facing in your life.
You may like: Tips to write a professional resignation letter
Letter body: 
I have been informed that I am required to be present at jury duty on Tuesday 27th November 2018. I want to serve the jury duty at the core of my heart but my life's problems are biggest obstacles in my way of serving. I have a 4 years old kid suffering from hepatitis. He needs my continuous attention and care.
Please respond me if you need additional documents in support of my excuse. I would like to thank you in advance. I will be waiting for your response.
See also: Warning letters for various reasons
Preview and Details of Template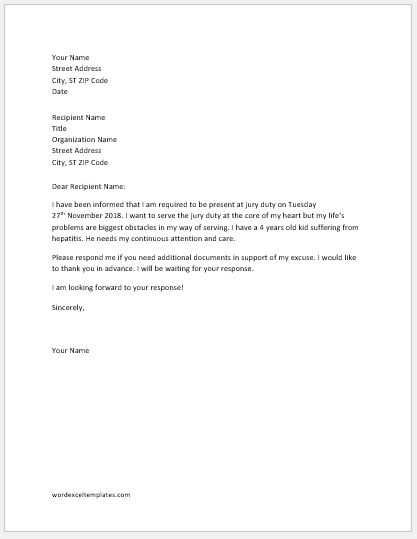 Letter Template
File: Word (.doc) 2007+ and iPad 
Size 35 Kb   |  Download
[Personal Use Only]