Banks and financial institutions are very important for the economic growth of a country. A stable financial system in a country proves that the country is growing economically. Banks play a very important role as they provide different instruments to people.
How many people do we know are good at saving money? Very few right. But, saving money plays a very important role in our financial future. We remember saving our money in piggy banks as kids. But when we grow up, we stop using the piggy banks due to which we lose the habit of saving money. Banks provide us with the opportunity to save money and keep them in an account. I still remember an advertisement about the kid's account and how excited I was to save my money in a bank account.
We see the entrepreneurs getting in fashion these days. Banks are one of the biggest support they have. Having a business idea is just not enough. You need money to finance your idea. And what could be a better way to get money than a bank. Banks invest the money they collect from depositors and lend it to the businessman, who in return share their profits with the bank and the depositors. So, it is a way to make the whole economy grow and use the available resources.
With the world becoming a global village, a bank gets you the access to the money all around the world. Isn't it just so easy to transfer or receive money with just one single click? We are shopping online, transferring money to our loved ones, paying our tuition fees and what not. With all the undeniable benefits of a bank, one of the major benefits is the mortgage facility which helps us to buy a home.
See also: Expense approval request forms
For any bank service we want to avail, we must provide the bank with all our details. The bank will study our details, access our returning ability and grant us the loan. In that case, the bank issues us an approval letter. Using that letter, we can further aid the process by getting any other required documents. The approval letter will include all the details of the depositor, lender or the account holder.
See also: Credit approval letter
Letter Sample
Subject: Approval of loan
Dear Mr. [XYZ],
We are very glad to inform you that in response to your request for a bank loan in order to meet your tight financial problems, we have approved your request. You requested a short-term loan of 30,000$. You wanted to meet your expenses. Hence, the bank has decided to approve your application of loan for 30,000$.
We have thoroughly read and analyzed your business proposal. Our bank has concluded that your plan is perfect for you in order to run a business successfully. The business can be very profitable for you if you follow the terms and conditions. It can be beneficial for us in turn.
The interest rate that you will have to pay on the loan will be 10%. This interest rate has been calculated with the help of standard formula used for calculating interest rate at the rate of 9%. We hope that this interest rate will be good for you.
As discussed earlier, you will have to pay the loan back within 10 years. Moreover, the interest rate may change depending on the duration of loan you choose. We are going to extend you the loan of 7 million dollars. The first payment of 700$ will be paid by you on 25th December 2017. You will have to make the subsequent payments on the 1st of every month.
Please come to the bank and review the terms and conditions of the loan agreement with the bank. The terms have been completely outlined in the promissory note. You are requested to come and sign it.
We have attached several related documents with this letter that are favorable for you. Please review the form thoroughly and return us so that the processing of loan can be done. If you have any query related to this matter, you can contact us on [xxx-xxx-xxxx].
Sincerely,
See also: Credit authorization forms
Preview and Details of the Template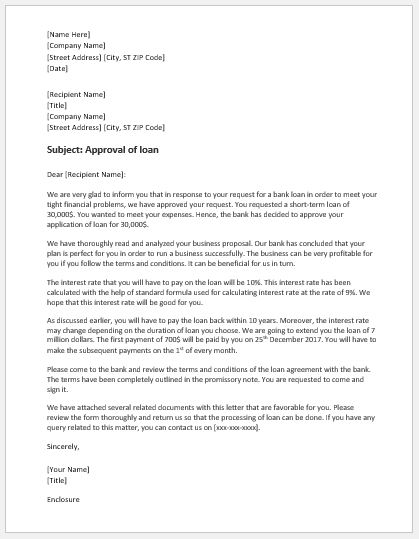 Letter Template
File: Word (.doc) 2007+ and iPad 
Size 35 Kb   |  Download
[Personal Use Only]