Most organizations don't allow their employees to use cell phones in the office. It has been observed that the use of mobile during working hours significantly decreases the productivity of the employees and hence it becomes impossible for the organization to get successful.
Every organization has its own rules and regulations that are required to be followed by everyone working in that organization. Many organizations restrict their employees from using cell phones in the office.
Such companies also provide a special place for the proper storage of mobile phones so that the employees can get them when office time is over.
The language to be used in the warning letter should not be harsh. The tone and wording of the letter should be simple and easy to understand. The main purpose of writing the warning letter to the employee is to inform the employee that he will not continue using a mobile phone during work, this act will not be taken lightly and the organization will have to take strict actions against him.
You can clearly ask the employee to treat this letter as a warning letter. The letter should be ended with the request to an employee for good behavior.
Warning letter for cell phone use at work
[Subject: Subject of Letter]
Dear [Name Here],
It has been noticed that there has been frequent use of cell phones by our employees during working hours. It has also been noticed that some employees were taking personal calls while dealing with the customers.
Here I would like to remind you that the use of cell phones during working hours is strictly prohibited. Moreover, some of the company policies may also ask you to keep your phone in silent mode. Employees can attend the call in extreme emergencies.
I hope that this reminder would be enough for you to discontinue the frequent use of cell phones while working. Thank you for all your cooperation in this matter.
[Senders Name]
[Senders Title]
Preview and Details of Template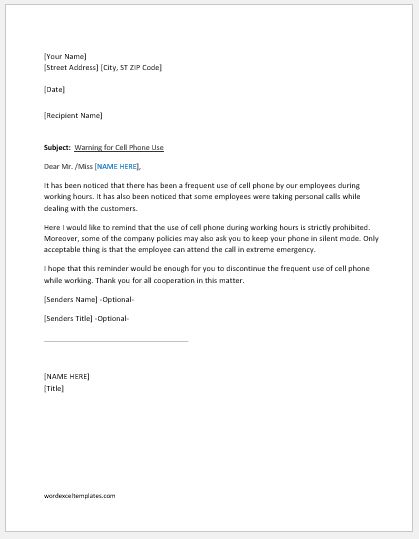 Letter Template
File: Word (.doc) 2007+ and iPad 
Size 35 Kb   |  Download
[Personal Use Only]