The warning letter for insubordination is a specific type of letter which is similar to other warning letters written for disciplinary action.
It should be kept in mind that insubordination is different from disrespectful behavior and the disrespectful behavior should not be considered while writing the warning letter for insubordination.
There are several other things to be considered before writing this warning letter. There can be many reasons for an employee to refuse to do the work directed by the employer. Those reasons should be known before writing this type of warning letter.
There should be a solid reason for writing it. For example, if you have instructed your employee to do something which is not safe for him, he has a right to refuse from doing that work. If you have given the employee enough training to do that job safely, then you have a right to write this warning letter.
Make sure that you have found the facts with the potential witnesses before writing this warning letter. The witnesses are not collected by interviewing the other employees randomly to get the information.
When you interview an employee, have them make a written statement so that you can remain safe if for employee takes it to the legal proceeding.
Write this letter in a formal tone and the employee should be told that it is a warning letter.
Here is a sample warning letter for insubordination to let you know about the wording and rules for writing this type of serious warning letter.
Warning letter for fight with coworker
Warning letter for misusing office equipment
Warning letter for indisciplined behavior
Letter body:
I have been reported that you have shouted at the supervisor when he instructed you to submit the project report within one day. When I asked you for your explanation, I came to know that you have admitted your mistake.
I could have taken a serious action against you because of your insubordination. But our company's policy is to reform our employees and giving them more opportunities so that they can improve themselves in future and be careful in similar matters. You are being warned about this behavior.
Warning letter for being disrespectful to manager
Preview and Details of Template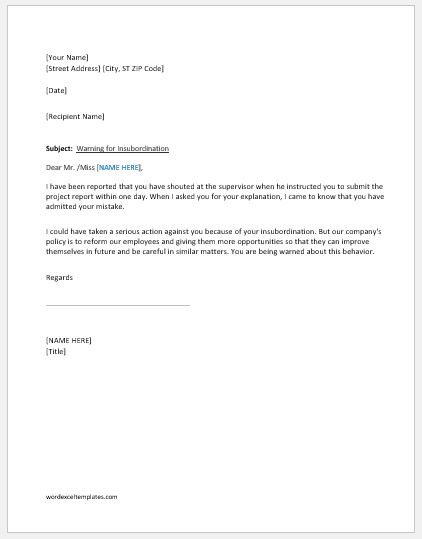 Letter Template
File: Word (.doc) 2003+ and iPad 
Size 33 Kb | Download
[Personal Use Only]
---
Disciplinary Action for Insubordination
In compliance with workforce rules, this cognizance is to notify you that you have been rusticated from your post, unpaid, for a period of 12 days.
The reason behind taking this step is your violation of behavioral conduct. Your disrespectful and disruptive attitude will not be accepted. You are advised that any further misconduct will result in disciplinary action, up to and consequently discharge.
Preview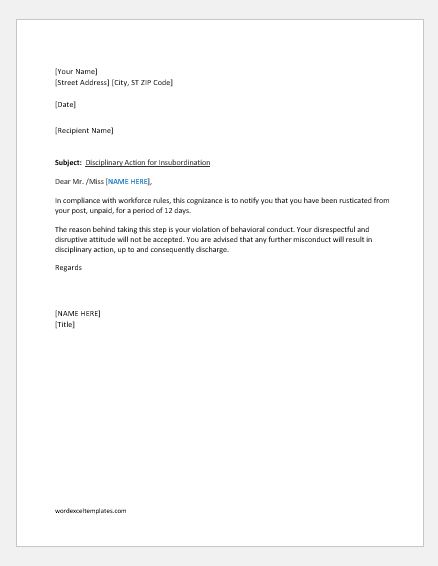 File: Word (.doc) 2003+ and iPad 
Size 33 Kb | Download
[Personal Use Only]