A warning letter for insubordination is a specific type of letter that is similar to other warning letters written for disciplinary action.
It should be kept in mind that insubordination is different from disrespectful behavior and disrespectful behavior should not be considered while writing the warning letter for insubordination.
There are several other things to be considered before writing this warning letter. There can be many reasons for an employee to refuse to do the work directed by the employer. Those reasons should be known before writing this type of warning letter.
There should be a solid reason for writing it. For example, if you have instructed your employee to do something that is not safe for him, he has a right to refuse to do that work. If you have given the employee enough training to do that job safely, then you have the right to write this warning letter.
Make sure that you have found the facts with the potential witnesses before writing this warning letter. The witnesses are not collected by interviewing the other employees randomly to get the information.
When you interview an employee, have them make a written statement so that you can remain safe if the employee takes it to court.
Write this letter in a formal tone, and the employee should be told that it is a warning letter.
Here are some sample warning letters for insubordination to let you know about the wording and rules for writing this type of serious warning letter.
Letter Samples
#1
I am writing this letter to address a serious matter of insubordination that has been brought to my attention by your supervisor. Our XYZ Company follows a set of rules and policies that must be followed by all employees without any issues or questions.
In addition, we prefer the chain of command while working on mega projects and other responsibilities. You were asked by your supervisor to collect and analyze data for our most recent project but you failed to fulfill your duties in due time. You were given another chance by your supervisor but you did not follow through. If you had provided any reasons for your inability to complete given tasks then we would have understood but this attitude does not comply with our definition of professionalism.
If you do not want to follow the proper chain of command and complete your responsibilities without creating issues, then management will be forced to take strict action against you. It can cost you your job and all the work you have done previously. I will advise you to rectify your mistake and apologize to your supervisor before it is too late. I hope this letter will knock some sense into you.
#2
I am writing this letter to officially inform you about your case of insubordination with your seniors during a recent office meeting. At XYZ Company, we do not tolerate the bad behavior of any employee due to any reason.
At yesterday's meeting, you were asked to present your work about the project you were working on but you reacted out of proportion and misbehaved with your seniors. It was your project to deal with and you would have got all the assistance if you had asked for it but you failed to deliver. This situation cannot be ignored at all costs therefore, it is important for management to take action against your insubordination.
You have to take the following measures as soon as possible,
Write a formal apology to each senior that you misbehaved with and seek their forgiveness.
Take an online workshop on professionalism and behavior, arranged by the company.
Perform your best in your ongoing projects to show your sincerity to work.
Do not engage in office politics related to this matter because it will do you more harm than good.
Consider this letter as your first warning during your employment period. If you do not correct your behavior after this warning, management is forced to take strict action against you.
#3
I hope you are enjoying good health. I am writing this letter to formally inform you about the incident of insubordination from you at the meeting with our clients. Our organization follows strict rules and policies when it comes to employees' behavior with their colleagues and clients therefore, your misconduct cannot be justified with any sort of explanation.
You were assigned the task of presenting the project to clients and you lashed out of proportion because of some questions. While presenting, client satisfaction is the number one priority and it is absolutely fine if they pose questions or raise concerns. You could have politely explained your point or asked for time to review their concerns but you misbehaved to prove your point which is not appreciated at many costs.
Not only our clients but higher management is extremely shaken by your attitude. You have always been an asset to our organization but your recent actions have forced us to take this matter seriously. Consider this letter as a warning letter from the organization and take the following steps immediately to regain the trust of your employers,
Leave all the ongoing projects that you were managing as a team leader.
You will be assigned a temporary supervisor to monitor your actions closely.
Attending workshops on office behavior and client satisfaction is a must.
Apologize to all clients through an official letter or email.
You are not allowed to work with said clients ever in the future.
If you will be able to regain the trust of employers then you can continue your responsibilities as a team leader.
I hope that you will take this letter seriously and try to improve your conduct. If you need assistance in managing your personal or professional issues, we will be happy to help.
#4
It has been reported that you shouted at the supervisor when he instructed you to submit the project report within one day. When I asked you for your explanation, I came to know that you had admitted your mistake.
I could have taken serious action against you because of your insubordination. But our company's policy is to reform our employees and give them more opportunities so that they can improve themselves in future and be careful in similar matters. You are being warned about this behavior.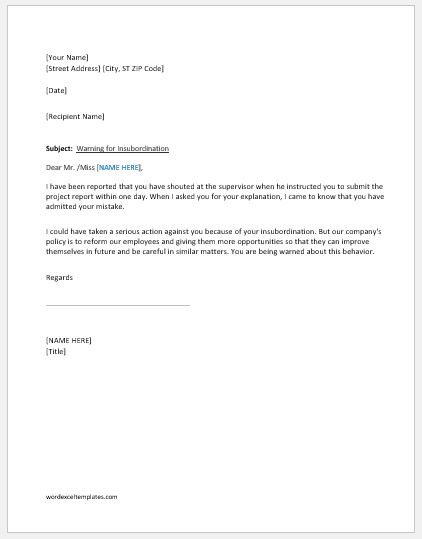 File: Word (.doc) 2003+ and iPad 
Size 33 KB
Disciplinary Action for Insubordination
In compliance with workforce rules, this cognizance is to notify you that you have been rusticated from your post, unpaid, for a period of 12 days.
The reason behind taking this step is your violation of behavioral conduct. Your disrespectful and disruptive attitude will not be accepted. You are advised that any further misconduct will result in disciplinary action, up to and consequently discharge.
Preview