Sometimes, the employees show the negligence in duty. The employers never like the unsatisfactory performance of the employee and they have a right to keep a check on the employees' performance.
When the performance is not according to the standards of the company or there is misconduct by the employee, the warning letter for negligence in the duty can be written to the employee. The tone of the letter is completely formal.
Every organization has its own way to deal with the employees showing negligence in the duty. Some employers meet the employee personally and discuss the entire matter and try to sort things out.
However, writing the warning letter to the employee after the complete investigation is the most professional way to deal with the employees on behalf of the company.
The letter should be started with the statement indicating that this letter is to be served as a warning letter. Here is a sample a letter body to help you in crafting a professional warning letter for negligence in duty.
Warning letter of negligence in work
Warning letter for poor performance
Letter body:
I am issuing you the warning letter because of showing negligence in performing the job duties.
You took the urgent leave for four days to go out of the city for a very serious problem. I urgently granted you the leave based on your evidence and asked you to re-join after 4 days. You did not join us back after 4 days and skipped 3 more days.
You know that the inspection team is on a visit and we don't have any person to work in your position for more than 3 days. The company has suffered a lot because of your careless behavior.
You are hereby requested to provide us with the explanation letter explaining the reason for showing negligence from performing your duty well. You are required to provide the explanation letter within next 48 hours with a copy of this warning letter.
Non-compliance with the order will result in serious consequences. I hope that you will avoid such negligence in future.
Regards
____________________________
Warning letter to employee for bad performance
Warning letter for indisciplined behavior
Preview and Details of Template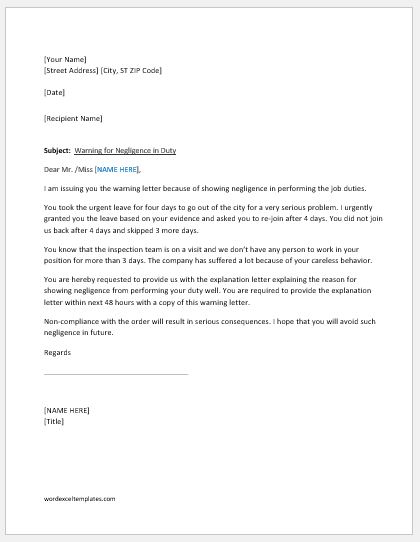 Letter Template
File: Word (.doc) 2007+ and iPad 
Size 35 Kb   |  Download
[Personal Use Only]