Re. Proposal Letter on Fashion Design Project for Summer' 23 Fashion Show FASP (Name of the City)
Dear [Client's Name], I am much delighted to propose a new project to you where our companies can collaborate and partner to get impeccable results. We are working on a fashion design model project for the summer collection of [mention the month] 2054. In this fashion designing project, both teams can use their concerned and relevant expertise and area of work and make our collection an immense success.
We, at the [Name of the company] have been working on our summer launch for several months and our collection is about to get launched. We have adopted hydro and oceanic themes for this collection which perfectly aligns with your motto of clothing sales and distribution for summer 2054.
Having observed similarities in our vision and goal, we propose you partner with us. We will provide the latest fashion models and collection launches and your company can use its resources to manage, market, distribute, and sell our clothing line.
In this way, we both can support each other and can get a considerable share in the profit. I believe, both these companies can work together with great enthusiasm and make this collection a huge success this year. We need a professional yet impactful partner who can use their resources for the marketing and distribution of fashion models.
We can inform you with more details on the type of fashion model we have prepared and our long-term goal from this launch. We can discuss further details if you can meet us in person. Our team will be available at any time you show your availability. Please let us know so that we can negotiate the project and get it done before the launch date.
We are looking forward to hearing from you. Thank you for providing this opportunity to let us get your prestigious services. Let us know if you have questions concerned with this project.
Regards,
[Name]
[Title/position]
[Company Name]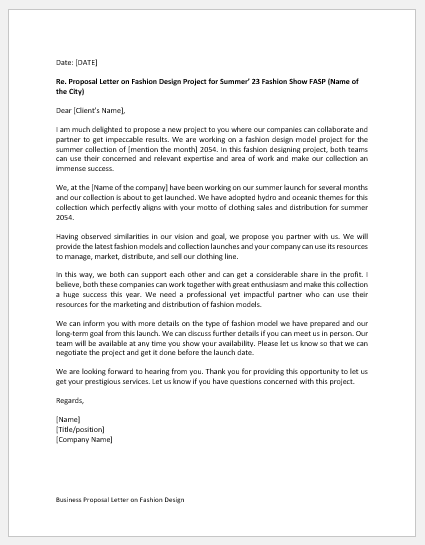 #2
Re. Proposal Letter for Fashion Design Spring Collection in 12th Mega Fashion Show, [City Name]
Dear Client,
I am very excited to receive your email asking for a brief proposal letter to outlet the idea of our spring collection of fashion designs in casual wear and party wear for the 12th Mega Fashion Show going to be held at [Name of the city] on [mention the date].
We have decided to participate in the fashion show and showcase our best collection and contest for the best launch going to happen. We are very excited to work on this project and can do it with your strong partnership.
Our spring collection and the mid-season collection have been under the manufacturing process and our designers are working day and night to make it a success. We are an exceptional team of designers who collaboratively work on the themes and designs of the clothes. We also have the latest machinery to bring the real form to the dream of crafting and designing. Moreover, we have a team of textile experts who are experts in knitting and making the fabric classic.
We have a vision of turning focus to the forgotten classic designs and cultural wearing in the spring festival fashion show. I am glad to know that our vision and goal for the 2023 collection align which will make it work exceptionally for both of us.
We can collaborate in this spring collection launch where your team can work on the advertising and marketing of the collection and designs made by our team. I hope this collaboration will bring a resourceful and influential benefit to both companies.
Please ask me if you have any questions. If this proposal interests you and you want to proceed with the project, our team can schedule a meeting with you at your convenience. Thank you.
Regards,
[Name]
[Position/Designation]
[Company Name]