If you work in the field of multimedia and you have experience working as a video producer, you can have an excellent career pathway. However, working as a video producer and getting new clients is not easy. There is so much that you will feel the need to do such as writing proposals, proposal letters, or sending emails to your prospective clients. An email is the quickest way of communicating with your clients.
What is a video production email?
It is an email that you send to your clients as a video producer. Through this email, you let your client know about your existence in the industry and that you can be considered for a video creation service.
When to send a video production email to a client?
When you have come to know that there is a client who is looking for a video producer or when you receive a request for a proposal, you can write an email to the client. You must send the email as soon as you come to know that a video production expert is needed. Also, you should confirm first that the person to who you are sending this email is going to accept the email because some people find it offensive when they have asked for a proposal and people send an email.
What is the benefit of sending a video production email to a client?
You might be wondering why you need to send an email when most people prefer sending a proposal or a letter. The simple answer is that you can share your video sample through the email attachments that a client finds easy to evaluate and decide whether he would like to render your services or not. In addition, the email is very easy to send and you can easily confirm if your email has reached the target person or not.
How to write the video production email?
You should write the email in such a way that you can impress the client. This is possible if you follow all the protocols for writing and sending the email. These rules are not addressed anywhere. However, one should know about them.
For instance, emails are usually short and to the point that the client might want a video producer to send an email because the producer can attach his sample work with the email. So, your focus should be on the attached content. Here is what you can write in an impactful email:
Write the subject very carefully:
The subject of the email is the most important component of any email as the reader gets to read it before even opening the email. The reader can choose whether he should read the email or not based on the subject. So, make sure that your subject is vivid, easy to understand, refers to the project you are targeting, and small and concise at the same time.
State the purpose of the email in the beginning:
As soon as you start writing the body of the email, state what compelled you to write the email. Also, give your introduction as a video producer. If the client has asked for a sample video via email before, refer to that request.
Describe your professional profile:
After stating the purpose, you should give a brief introduction to your professional profile. Here you can describe how much experience you have in video production, which platforms or software you use for the creation of video content etc.
If there is any award or certificate under your belt, don't forget to mention them as they will help you impress the client. You can also share the link to the website where you have done your work and got positive reviews. 
Refer to the attachment:
You must have shared the video attachment with the email to show your sample work to your client and now you should refer to that attachment so that you don't leave the client wondering what you have attached to the email.
Share your contact details:
You can share your phone number and postal address to make it easy for people to reach you apart from email. 
Sample Emails
#1
Subject: Video Production Partnership

Dear [Client's name],

I hope this email finds you well. I am writing this email to let you know of an exciting opportunity for a video production partnership. In this partnership for video production, our teams can collaborate and work together to achieve impactful results.

I have a team of graphic designers, videographers, editors, and content developers who can work on the videos from the initial level of consultation to shooting the video and providing high-end remarkable results. We are a team of seven members who take freelance projects from different companies and provide video production services on the resources provided by the client.

If you are interested in working with us, please let me know by responding to this email. I can provide links to the videos produced by our team as a portfolio of our video production and skills in videography, graphics, sound imaging, editing, and details and focus-oriented development.

Looking forward to hearing from you. Thanks.

Best,

[Your Name]
[Title/Position]
[[Name of Your Team]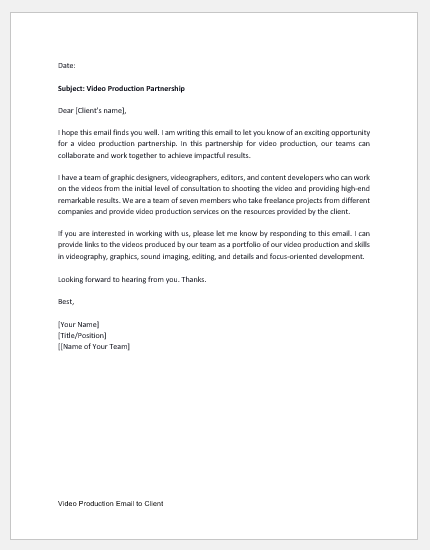 #2
Subject: Video Production Opportunity

Dear [Client's Name],

I am glad to know that you have completed work on the script and want to work on the video production of this short film. We have discussed the content you want to be made and the script for the video shooting in our earlier meeting.

However, to know more about the requirements of the video production and the direction of the videography and development, we would need to delve more into this discussion and openly talk about our end goals.

We have a team of expert videographers and editors who are well-experienced and very passionate about video production. They are able to give a total and holistic shape to your project with their innovative ideas and unmatchable skills.

Talking about the deadline of the project, currently, we are overwhelmed by the ongoing video editing and shooting projects, however, we can take this project to a broad deadline. In case of urgent production of the videos, you will have to maximize the resources available.

If you have any reservations, queries, or suggestions, we can schedule a meeting at your earliest convenience to finalize the project. We will provide you with comprehensive production and holistic projection of the content into the video.

Thank you for considering us.

Truly,

[Name of the Team/Company]