Appreciation is very important to building strong relationships in our personal and professional life. However, in professional life, appreciation is on the next level. When you appreciate a person or a company, it means that you have liked their services. This way, you let them know that they can continue with these services.
This letter not only boosts the morale of the hiring company and gives confidence to its team, but also enables you to build a positive and strong relationship with the company. Your professional life requires you to appreciate and criticize people as both of these actions are strong enough to help a company improve its services.
How to write an appreciation letter?
Words of appreciation are so strong that they can immediately boost the morale of the reader. Therefore, you should be able to put them in the letter in an efficacious way. Below are some useful tips to follow:
Write an appreciation statement:
At the beginning of the letter, acknowledge the reader for the hard work and the quality of services he has provided. Let him know if it is your personal opinion or if someone else has made you believe in that.
Mention what made you appreciate the hiring company:
Make the reader know what you liked about the company and what services, in particular, have impressed you. This way, the reader will be able to know what it should be focused on.
Read the sample letter given below for a better understanding of how to appreciate a hiring company.
1:
I am so happy with the kind of services you have provided to my company. Through this letter, I would like to appreciate you for all the hard work that you have put in to make your clients happy and satisfied with your services. Due to your diligence and enthusiasm, our company was able to find and recruit those individuals who were most suitable for its vacant posts. It was never easy for us to find the right candidate for the right job. However, you made it possible.
On behalf of the entire company and especially the human resource department, I would like to say thank you to you for being so nice and supportive.
The way you have understood the hiring needs of our company and searched for the most suitable candidate for our company is commendable.
Your dedication to performing your responsibilities flawlessly, a desire to always look for a new way to reach your goals, and your involvement in the entire procedure of recruitment are matchless. It would not be wrong if I say that you and your hiring company have outperformed every single competitor in the industry.
We are feeling pride to be your client and we would love to see you grow and develop quickly.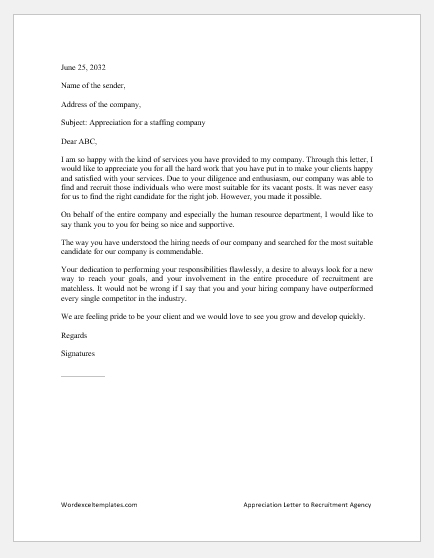 2:
I am writing this letter to take some time and appreciate you for all the good services you have provided to us. We are so proud to be your client because the kind of services you have provided is matchless.
I have been taking your hiring services for more than 6 months. During all this time, you have remained so supportive and cooperative and tried to find the most suitable person for our company. We are satisfied with the services you have provided to us. We have blindly trusted you and hired all the individuals that you chose for us after a thorough evaluation of their applications and qualifications.
As your valued client, we would like to say thank you to you for all the diligence and enthusiasm you have demonstrated through your work. If you ever need our recommendation, you can contact us. Furthermore, we would be so happy if you keep providing your services to us in future also. We wish you the best of luck in the future.  We would love to see you prospering and thriving.