An application for the job of a computer programmer from home is written to hiring agents of Tech companies, telecommunication companies, software houses, or networking agencies. In this letter, the applicant requests the management to hire him/her and to allow him/her to work from home following certain conditions and procedures.
A computer programmer develops various complex codes for the operating systems of the computer. He helps in developing and helping in system updates and keeps them error-free and counterbalanced. A programmer makes adjustments and amendments after reviewing the system programs. He creates ideas for drawing web diagrams and operating flow sheets. To integrate functionality, he tests and systematizes those codes.
While writing an application for such an important position, one needs to be very heedful and cautious while showing its stance of working. Usually, computer programmers are selected very carefully and cautiously as the whole operating system of the organization starts depending on them.
While writing, after telling the basic requisites like academic education, working experience, and one's interests, he/she needs to stay focused on the exposure of analytical ability and technical skills needed for the job.
Such kinds of jobs are highly demanded of technical skills and personal grooming related to the world of technology. In this write-up, one's focus must be on the programming practice, technical skills, and quick problem-solving nature.
Working from home is challenging for such technical work. One should convince the hiring agency of its amenity with working from home.
The following sample is an application of such a kind and can be used to address the job of a computer programmer.
Sample Application
Re. Application for the job of a computer programmer
Dear Sir/Ma'am,
I am Damien Philips from G-9 NYC. I am writing this application for the job of computer programming which was enunciated on the Facebook page of your company on 20th April 20XX. I have done my master's in Computer Programming from Lenix Gro University, Huston. After doing my masters I worked as an internee in JKC Software for one year. After coming back to my country, I started working as a web developer in a tech company for one year.
Due to the pandemic's ever-enhancing threats, I am looking for a home-based job. I also got distinction in the Tech Expo at Huston. I want to work with high profile companies like yours and want to put all my energy and vim to bring out the best of me. I love working under pressure with deadlines creating a challenging and dynamic environment for me. I am fond of working with the coding system and operating new programs to stabilize the system in operation.
I stay proactive while working from home as it saves a lot of time and energy which is wasted in traveling for the office. I manage to stay focused and productive even when I am working from home. I realize that I am a fit for the job in accordance with the demands made in the advertisement for the job. I assure you to work hard and put my best in this job. I have enclosed the copies of my academics and experience letter and present myself for any kind of further queries and available at [X] or [Email].
I am looking forward to your kind response. Thank you.
Sincerely
(Signature)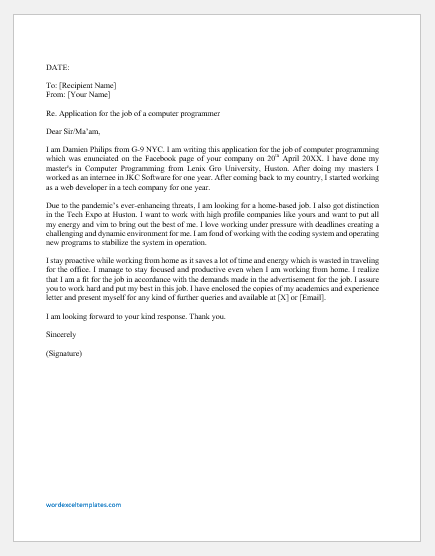 File: Word (.docx) 2007+ and iPad Size 18 Kb |
Download
---