Sorry email for rude behavior is a document written by an employee in which he/she accepts his mistake of being rude with another individual at the workplace and promises not to repeat the same action again. It may be highlighted in the letter that if the same action repeated a strict disciplinary action can be taken against the employee.
This email is a formal apology in regard to a past unethical action which a worker or any other employee performed. Bad behavior in a professional environment always triggers complications. It risks a person's job. This may lead to end up in an unsorted and entangled relationship with your own supervisor. Of course, a person never intends to behave in a deceitful way, but things can deteriorate in the workplace without any bad purpose.
In this regard, the best thing to do is to write an apology and clear out the tensions for your own good. One can simply confess on his/her unprofessional behavior so the matter could be sorted out between both parties (Organization/Supervisor and the Person).
Here are some steps in hand for you to write a good Sorry email:
Take responsibility for your fault
Express your sorry and regret
Make a promise and devise a plan for future behavior
In the end, just ask for forgiveness.
Sample Email
To: [[email protected]]
From: [[email protected]]
Subject: Apology of Rude Behavior with [X]
Dear Mr./Mrs. [Recipient's name],
I am writing this email/letter to truly taking the blame for my inappropriate conduct [Explain the incidence] on [Date]. My actions were unsuitable, and they mislead to creating a distressed environment for both the colleagues and staff members. I solely am responsible for all the inconvenience that took place that day.
I truly accept my inappropriate actions especially after demoting my personality in front of the staff and creating a negative aura in the workplace. I believe that working professionally marks a person's ability in both a respected and efficient manner. Unfortunately, in my case, I failed to achieve the standard of this institute and provide a good example for my juniors and co-workers. I lashed out in pressure of workload and had caused too much distress. I immediately regretted and herby I am writing this letter on behalf of my substandard actions.
I promise that I will be careful in the future and you won't hear any unprofessional behavior at my end. I will be calm, composed, and handle the situation in a mature way. I assure you that I will set a good example for this organization as it mainly focuses on the discipline and performance of workers. Things can always be gripped in a slow and steady way. My attitude will reassure you that I have learned from my mistakes.
I am truly sorry for my actions. I hope you ignore this incident and keep in mind my past working capabilities and hard work for this company. I look forward to developing some major business skills and improve my moral and ethical values. I may have acted unprofessionally but my passion for work is still there which can highly intrigue this company. I hope our relationship gets stronger and we may work with the best team compatibility.
Please accept my apology and forgive me.
Sincerely,
[Your name]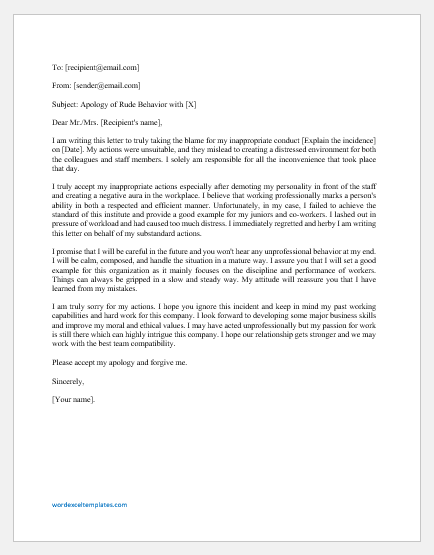 File: Word (.docx) 2007+ and iPad Size 21 Kb |
Download
---