An apology letter to a boss for resignation is a document written by an employee, who has resigned from an organization. This letter is addressed to the employer or boss/manager/supervisor. In this letter, the employee provides an explanation of his resignation as well as why leaving the job was mandatory for him. He might even indicate his guilt and regret due to resigning.
Sometimes, employees decide to leave their current jobs and companies. There could be many reasons behind the resignation, such as:
Finding a new and better job.
Shifting to a new place.
Emergency.
Family commitments.
Issues with the manager, colleagues or the organization.
If an employee has not verbally communicated about his resignation or resigns in an unexpected way, which comes out as shocking news to the employer and other employees, he might decide to write an apology letter to limit the effects of the news. However, as there are no hard and fast rules, even if the resignation news is not new, the employee might decide to send in an apology letter with the resignation letter to show the organization that he cares about the organization as well as leaving it.
The apology letter needs to be explanatory and convincing because it might become a source of maintaining a relationship between the employer and the employee. Even when the employee has left the job, it might be beneficial in the future.
An apology might be a detailed or concise one, the same applies to the explanation and reasons for resignation; it depends on the circumstances in which an employee has resigned. For instance, if an employee has resigned due to his issues with the organization, he might not feel remorseful. On the other hand, if an employee has faced some emergency, due to which he had to resign, he might even show his guilt feeling.
Nevertheless, generally, the following details are included in almost all the apology letters to the boss for resignation:
Date.
Details of the employee.
Details of the employer.
Reference to the resignation.
Indicate satisfaction with the job and organization, if applicable.
Provide an explanation for the resignation.
I apologize for the resignation.
Request for the apology acceptance.
Gratitude.
Salutation and signature.
When an employer receives a resignation unexpectedly, he might not accept it, or even if he does, he might get angry and frustrated with the employee, especially if the employee's resignation would affect the company significantly or prominently. In such circumstances, an apology letter might become the employee's savior, which is why it is often used by the employees when they are resigning from an organization.
Sample Apology Letter to Boss for Resignation
Date
Name
Address
Dear Mr. William,
I am writing this letter to apologize for my unannounced resignation from my current position at XYZ limited.
I was employed as an 'Assistant marketing manager' since 2012. I was very happy working in this organization and was learning and experiencing many new skills. However, my grandfather has gotten chronically sick and is hospitalized. There is no one else alive in the family to look after him or carry out the hospital formalities. I did not have any other option than to quit the job and shift in his town, as he lives five hours' drive away from here.
I am aware that this was unexpected news for you and my team, but honestly, it was the same for me as well. I also understand that I am leaving many projects in the middle, for which I am feeling extremely guilty. I can provide remote support whenever needed.
I hope you will understand my situation and accept my resignation and apology. I am sorry again.
Thanking you in advance.
Regards,
John Steven.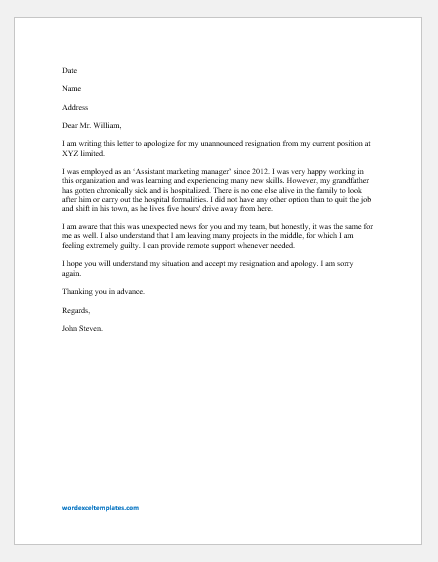 File: Word (.docx) 2007+ and iPad Size 29 Kb |
Download
---