A salon experience letter is a letter issued by a salon employer to his/her employee. The employee can be currently working at the salon or has become an ex-employee. As the name indicates, the salon experience letter is issued to certify that an individual had been an employee of the salon and has responsibly performed his duties, while gaining the salon related experience.
A salon experience letter can be given to an employee for various reasons, such as:
An ex-employee is applying for another job.
A current employee wants to get enrolled in a salon training program.
An employee is seeking a loan, mortgage, etc., for which he has to submit a letter from his employer to show his source of income.
Through the experience letter, an employer can state the worth of an employee in a formal way. The information that needs to be included in the letter depends on whether the employee is a current or an ex-employee, the employer as well as the organization that is seeking such a letter. However, the general details included in all experience letters are:
Date.
Details of the salon employee.
Details of the salon employer.
The employment period of the employee at the salon.
Statement and support of employee's value.
Main duties and responsibilities.
Good wishes.
Salutation and signature.
Stamp of the salon.
This letter is issued on the letterhead of the salon and is duly signed and stamped by the entitled person at the salon, such as the owner, manager, etc. These variables make the experience letter valid and acceptable for potential employers.
Although both state the employee's capabilities and competitiveness, a salon experience letter are different than a reference letter. The former is issued by an organization, while the latter is issued by an individual, such as a colleague, manager, etc. The employee chooses the letter to be used based on the requirements of the organization he is applying in.
Sample Salon Experience Letter
Date
Name
Address
To whom it may concern,
It is to certify that Ms. Sarah William worked at our ABC salon as a 'hairstylist' for a period of three years, i.e. February 2017 till March 2020.
During her employment, we found her a very hardworking and dedicated employee. She has a pleasant personality and a smiling face, which makes customers relaxed and satisfied. She is keen to learn new things and is always exploring new hairstyles and hair care methods. The keratin haircare treatment was introduced in our salon by her.  
Her main duties and responsibilities include:
Analyzing the client's facial features to recommend a hairstyle.
Haircutting as per the client requirements, latest trends and client features.
Carrying out hairstyling and hairdos.
Suggesting hair care products, tips, treatments, hair colors, etc.
Carrying out hair dyes.
She was our asset and we wish her the best of luck for all her future endeavors.
Regards,
Timmy Dsouza.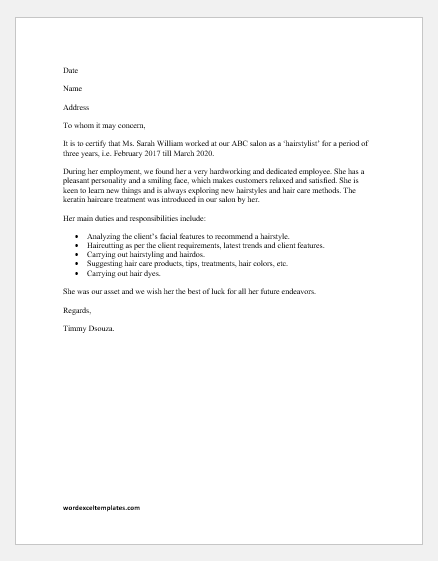 File: Word (.docx) Size 21 Kb |
Download
---