An apology letter to the boss for quitting a job is a letter written by an employee who wants to or already has quite a job. This letter is addressed and sent to the employer, in which the employee apologizes for leaving the job.
Employees leave jobs all the time for various reasons, such as:
New job.
Family commitment.
Emergency.
A movement to another place.
Career shift.
Starting of business or joining the family business.
When an employee quits or plans to quit, if he wants to end at a good note, one of the effective ways is writing an apology letter for quitting a job. This letter has many benefits such as:
It provides a chance to explain an employee's situation and the reason for quitting.
It indicates to the employer that the employee values the company he is leaving.
Through this letter, an apology can be communicated formally, professionally and in writing.
The information included in an apology letter is not the same all the time. It depends on the feelings, explanation, reasoning, etc., of the employee that determine the details. However, the general details included in an apology letter to the boss for quitting the job are:
Date.
Details of the employee.
Details of the employer.
Reference to job quitting.
Reasoning and explanation.
Apology.
Indicate remorse.
Seek forgiveness and apology acceptance.
Salutations and signature.
When the employer receives an apology letter, he would feel good that the employee cared enough to write it. If there is some emergency, due to which the employee has resigned, the employer might develop sympathy for him/her as well. The explanation provided in a resignation letter may be less effective as compared to the reasoning presented in an apology letter.
Therefore, if an employee was happy and satisfied in an organization that he is leaving or has regret feeling, usually, he would write an apology letter and send it in along with his resignation letter.
Sample Letter
Date
Name
Address
Dear Mr. Johnathan,
I, Sam Wilson, am writing this letter to apologize for quitting my job as 'Finance Manager' at XYZ limited.
I have been employed here since 2002 and was enjoying working here. I had to quit because of the sudden death of my father-in-law. He has a well-established business in Minnesota, and except for my wife, being his only child, there is no one else to look after the business. My wife could not go there alone with our three-month-old daughter, so we decided to move there together and look after his business and property. The real estate agents and charity organizations are already approaching us for selling or donating his belongings, which is why we had to hurriedly pack everything up and go there.
I am extremely sorry I could not inform you before properly, but the circumstances did not allow me to. It was all a hurried decision. I have already sent in my resignation but I wanted to apologize to you separately as well. You have been a great supervisor and mentor to me and I will always owe you for that.
I am sorry again. I hope you will understand and accept my apology.
Regards,
Sam Wilson.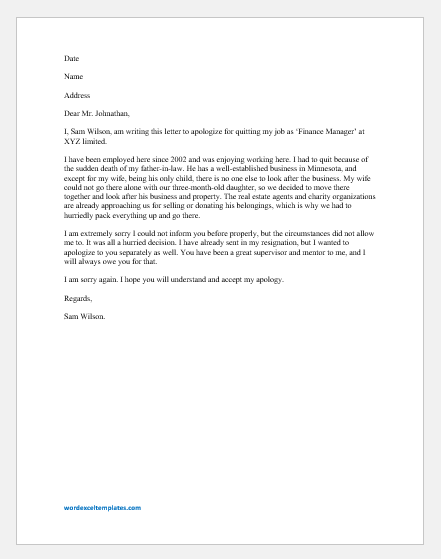 File: Word (.docx) 2007+ and iPad Size 21 Kb |
Download
---