There are certain situations when you think it is more feasible for you to work from home. Sometimes, the company and the employee face the problem of scheduling which makes it difficult for the company and its employees to work with each other. In that situation, the employee can write the letter to his boss for convincing him to allow him to work from home.
Importance of writing a letter to the boss:
It can be difficult for you to convince your boss to allow you to work from home because this may not be a trend in the company. Many employers want to have face time, and they believe that not working from the office can affect the productivity of the employee to a great extent.
Tips for writing the letter to boss for getting the permission to work from home:
No matter what reasons you have to communicate with your boss through the letter, it is always important to come off as a professional person who knows how to communicate with his employer. Here are the tips that can be followed for writing the effective letter to boss:
Outline the reasons for supporting working from home:
When you are writing the letter to ask for permission from your boss, you should include all those details in the letter that rule out the possibility of your request to get rejected by your boss. You can easily reduce the chances of rejection from your boss by writing all the potential benefits that the company can have after the company decides to allow you to work from home. Furthermore, your boss should not feel that you are trying to find ease for you. For this, give all the reasons which have compelled to write this letter
Research about the content:
When you are writing the letter to your boss with your claim for the company to have lots of benefits if he allows you to work from home, you should equip yourself with plenty of content in support of your claims.
Luckily, there is a lot of content on the internet that can help you support your claim of remote working. Also, there are lots of people working remotely for their company. You can meet them in person and talk to them about the benefits they are giving to their companies. You can quote their points in the letter to convince your boss.
After you have provided all the content that your boss needs to read in the letter in order to decide whether to permit you or not, you can come to the main part of the letter.
The letter should clearly state that you are asking your boss to give you permission to work remotely from home. You can show gratitude to your boss in advance for permission. Also, mention it in the letter that you are looking forward to your boss' s reply on this permission letter.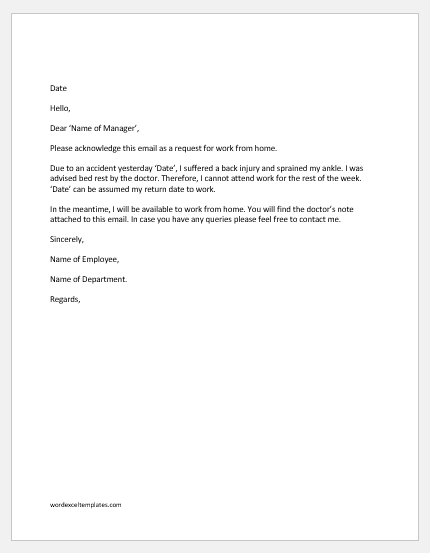 File: Word (.docx) 2007+ and iPad Size 28 Kb |
View Sample Email & Letters
---